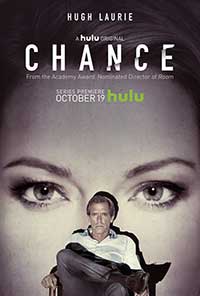 For eight seasons, Hugh Laurie (The Night Manager) was a small screen fixture as the medical curmudgeon, Dr. Geoffrey House. Laurie now returns in this Hulu neo-noir series as Dr. Eldon Chance, a forensic neuropsychiatrist working for the San Francisco Bay area criminal justice system. Beset by serious financial problems, Eldon now resides in a sparsely furnished apartment and sees his patients in a modest consultation office. Chance's wife Christina (Diane Farr, Numb3rs) is divorcing him and has left him for the much younger Neil (Michael Rupnow, Modern Family). His adolescent daughter Nicole (Stefania LaVie Owen, The Lovely Bones) is depressed about having to leave her expensive private school.
Dr. Chance's life and career change abruptly when femme fatale Jaclyn Blackstone (Gretchen Mol, Boardwalk Empire) enters his office and complains of intermittent memory loss. Apparently Jaclyn has multiple personalities, one of which is the lascivious sex kitten "Jackie." She had been getting psychiatric care from the late Dr. Myra Cohn and has separated from her abusive police detective husband,  Raymond (Paul Edelstein, Private Practice). After Chance refers her for more psychotherapy to Dr. Suzanne Silver (LisaGay Hamilton, House of Cards) Jaclyn ends up in the hospital from a severe beating by her husband.
In a nascent moth-to-flame attraction, Dr. Chance initiates "after-hours" meetings with the now-recovered Jaclyn that soon become quite steamy. Detective Blackstone discovers this burgeoning relationship and takes retaliatory measures: he hacks Chance's computer, exposes the doctor's embarrassing old medical records, assaults Nicole, and administers a beat down to Chance in a parking deck.
Taking a proactive approach, Chance hooks up with Darius Pringle AKA "D" (Ethan Suplee) a massive machinist who works for antiques dealer Carl (Clarke Peters, Jessica Jones). "D" has a dysfunctional backstory that includes anger management issues, an imagined past life as a special forces Iraq War veteran, and now owns an arsenal of deadly weapons. The pair begins to follow Detective Blackstone during his daily rounds of massage parlors, female trafficking sites, and drug dealers, hoping to dig up enough dirt to take him down. "D" hatches a "special ops" plan that drags Dr. Chance even deeper into a very dark underworld from which there may be no escape. As the series progresses, Chance's personal and professional life continues to go off the rails. More details surface about "D" and Jaclyn that blur the boundaries between truth and fiction as a potential showdown with Blackstone lies ahead. But just when you think that you have this one figured out, writers Cunningham and Nunn toss in a few more plot twists.
While the series does have five directors, the final product is a smoothly assembled thriller. Laurie's portrayal of the deeply troubled shrink is masterful and the other principals, Suplee, Mol, and Edelstein create very credible and three-dimensional characters. In the spirit of Strangers on a Train or The Postman Always Rings Twice, this is easily the most noir of Hulu's original offerings to date and one that will keep viewers off-balance for the entirety of its ten-episode run. Chance junkies stay tuned, as there are rumors of a Season 2 in the offing. Let's hope so.
Chance is currently available for streaming on Hulu.
Chance: Season 1 (TheaterByte TV Series Review)
Alexander Cunningham | Kem Nunn
Show Creator
19 Oct. 2016
Original Release Date
Hulu
Network/Streaming Service
Fox 2L | Groundswell Productions
Studio/Distributor
Summary
An engrossing and very dark series that introduces viewers to the newest Hugh Laurie impersonation as a troubled neuropsychiatrist whose personal life goes off the rails.
What people say... Login to rate
Be the first to leave a review.
Show more