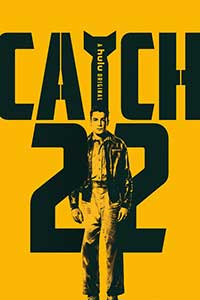 Catch-22 opens with the stark image of Captain John "Yoyo" Yossarian (Christopher Abbott) naked and covered in the blood of a dead airman, an image that will return to bookend the final moments of this six-episode mini-series.  The title itself is explained later by Army Air Force flight surgeon Doc Daneeka (Grant Heslov): there is a regulation based on circular reasoning that prohibits a soldier from claiming insanity to avoid flying hazardous missions as only a sane person would recognize the craziness inherent in accepting such assignments.
Yoyo is a bombardier stationed on the Italian island of Pianosa with his best friend officer Clevinger (Pico Alexander). It is World War II, and Clevinger and Yossarian are carrying out their first bombing raid over the Italian countryside. Their squadron is populated with characters like baby-faced Lieutenant Orr (Graham Patrick Martin), fellow Lieutenants pipe-sucking "Aarfy" Ardvark (Rafi Gavron) and Milo Minderbinder (Daniel David Stewart), and aptly named Major Major Major Major (Lewis Pullman). Milo sucks up to the effete Major de Coverley (Hugh Laurie) and gets promoted to mess hall officer, while he  builds up an international merchandising empire—M&M Enterprises.
Colonel Cathcart (Kyle Chandler) takes over the squadron and is clearly a megalomaniac obsessed with being promoted to General. Much to the airmen's dismay, he continues to increase the number of bombing runs before the previous threshold has been reached. Much of the remaining episodes centers around Yossarian's desperate attempts to convince Doc Daneeka and Nurse Duckett (Tessa Ferrer) that he is sick and unfit for duty. When that fails, he spikes the tomato soup and sickens all of the crewmen, giving him at least a few days' respite.  To avoid going on yet another dangerous mission to Bologna, a veritable "boneyard for bombardiers," Yossarian surreptiously moves the bombing line on the briefing room map to spark a rumor that American forces have already captured the city. Cathcart cancels the missions but when he finds out this is a hoax, the mission number is raised again.
Yossarian decides to fly his eleven remaining missions in just six days, logging them only when they are completed so Colonel Korn (Kevin J. O'Connor) can stamp the forms so he can be discharged home. However, General Scheisskopf (George Clooney), Mediterranean operations commander, arrives right after the Pianosa airfield has been destroyed by the German Luftwaffe.  The General promptly cancels Yossarian's discharge, as the two men had previously locked horns during basic training when Yossarian was bedding down Mrs. Scheisskopf (Julie Ann Emery). As the show winds down, Yossarian's misadventures continue and there is no end in sight for his risky missions.
This new version of Catch-22 is based on Joseph Heller's classic novel, inspired by his experiences as a World War II B-25 bombardier.  The humorous moments, and there are plenty of them, get frequently punctuated by the hazards of war as most episodes contain graphic accounts of bombing missions seen from Yossarian's perspective in the plane's nose cone.  Yossarian sums up for Clevinger the show's main philosophical bent: "The enemy is anybody who's going to get you killed, no matter which side he's on, and that includes Colonel Cathcart. And don't you forget that, because the longer you remember it, the longer you might live." Clevinger fails to heed this advice and becomes another statistic when his plane goes missing in action.
Christopher Abbott delivers a tour de force performance as the troubled airman whose drive to survive leads to his descent into madness. George Clooney adds a completely new character to the Catch-22 story, and his deadpan demeanor and demand for "fiercely tight formations" exposes him as the quintessential pinhead who, unlike Yossarian, has never been decorated for valor. There are great supporting turns from Chandler, O'Connor, Stewart, and Heslov, the latter sharing his strong directorial leadership with Clooney and Ellen Kuras.  The real kudos go to scriptwriters Luke Davies and David Michôd who have extracted the essence of Heller's masterpiece and given viewers the bittersweet taste of war and exposed the inanities of a hierarchical military system that often rides roughshod over its men in uniform.  While the 1970 big screen version of this story had a starrier cast led by Alan Arkin, Buck Henry's weak script cannot hold a candle to what Davies and Michôd have given their younger and equally talented actors. Highest recommendation.
Catch-22 is streaming now in its entirety on Hulu

---
Luke Davies | David Michôd
Show Creator
17 May 2019
Original Release Date
Hulu
Network/Streaming Service
Smokehouse Pictures | Anonymous Content | Paramount Television | Hulu Originals
Studio/Distributor
TV-MA (language, violence, sexual situations)
Rating Certificate
Summary
A stunning adaptation of Joseph Heller's original novel about the hazards of war and its effects on the combatants. The mini-series's script delivers a proper balance between dark comedy and heartbreaking tragedy with a cast that is absolutely first-rate.
What people say... Login to rate
Be the first to leave a review.
Show more