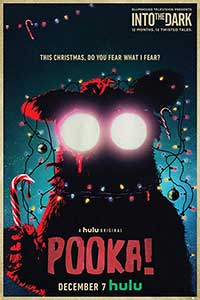 Hulu Original Studios/Blumhouse Productions has just geared up for the Christmas season. The title character is a massively popular new toy that resembles a begoggled teddy bear but, in the spirit of the holidays, is programmed with a naughty-or-nice personality. Wilson Clowes (Nyasha Hatendi) is a struggling LA actor who tries out for his next role in front of PR director Finn (Jon Daly) not realizing that it will be as Pooka's life-sized human mascot.
After Wilson returns home and dons the costume, he inexplicably trashes his apartment although he does not remembering doing this.  At the Pooka Pop-Up show room, the costumed Wilson spies attractive Melanie Burns (Latarsha Rose), a single mom and real estate agent, whose son Ty (Jonny Berryman) is very disappointed that all the Pookas had already been sold. The following day, Wilson visits a house that Melanie is showing and is totally smitten. After Wilson gifts Ty with a Pooka and gets closer to Melanie, the furry creature begins to intrude further into his personal life, including the imagined brutal slaying of his eccentric next-door neighbor Britt (Dale Dickey). Things go from bad to worse when Wilson dressed as Pooka assaults a young guest at Ty's Christmas party and his ensuing hostile behavior utterly destroys his budding relationship with Melanie.
The Pooka toys begin to malfunction and keep repeating the phrase "look at those pretty lights," setting off a furious backlash by dissatisfied customers. The Pooka pop-up store closes, and after Finn reclaims the Pooka costume, Wilson's world spirals out of control, as the boundary between what he thinks is real and what he imagines disintegrates.
Pooka! began to lose me about one-third of the way into the story as its script's potpourri of potentially promising ideas  failed to merge into a satisfying whole. While the film scored some points for originality as a Christmas-themed horror story, Pooka! would have benefitted from better cinematography (too much garish red lighting) and more coherent storyline (where did that flaming-eyed Pooka doppelgänger come from?). On the plus side, lead actor Hatendi is extremely adept at managing the rapid mood swings required of his role and his supporting cast are a credible group of very diverse characters.
Where the wheels completely come off this show is in its utter lack of explaining how the Pooka costume could have actually altered Wilson's personality even when he was not wearing it. Has it somehow been cursed by its designer (whoever that might be) or is it all a figment of the character's imagination? If, in fact, it is all a hallucination (and there are some clues to suggest this as a possible explanation), then the persona without the Pooka costume still makes little sense. The final scene is a hurried effort to tie everything up but it is a case of too little, too late. Hopefully, the New Year's installment will kick off 2019 with a better watch.
Hulu Originals Into The Dark Pooka is now streaming in its entirety on Hulu
---
Divide/Conquer | Blumhouse Television | Hulu Original
Studios & Distributors
Summary
The third installment in the Hulu Originals/Blumhouse Productions series fails to rise above its B-film predecessors and leaves viewers scratching their heads at the film's rushed finale.
What people say... Login to rate
Be the first to leave a review.
Show more