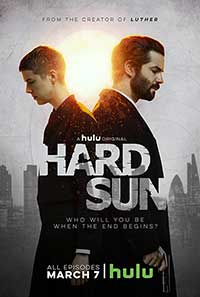 Hard Sun is best categorized as a "pre-apocalyptic" crime series set in today's London. The title refers to a classified UK government video that shows, in five years, how solar flares will change Earth's climate sufficiently to cause mass extinction of the human race. The six episodes pose this existential question: How would general awareness of this looming catastrophe change our current behavior?
Androgynous DI Elaine Renko (Agyness Deyn) has survived an attempt on her life made by her deranged son Daniel (Jojo Macari) who is subsequently institutionalized. Eight months later, she joins DCI Charlie Hicks (Jim Sturgess) as replacement for his dead partner Alex Butler (Daniel Coonan). As ordered by DCS Roland Bell (Derek Riddell), Elaine secretly investigates Butler's death and suspects that Hicks was involved. Charlie has a pregnant wife Simone (Lorraine Buroughs), a young stepdaughter Hailey (Tamara Smart, and an ongoing affair with Butler's widow Mari (Aisling Bea).
Elaine and Charlie investigate the death of a computer whiz who apparently fell out of his high-rise apartment building. The whiz's friend Sunny Ramachandran (Tom Reed) finds the classified "Hard Sun" file on his dead friend's flash drive and meets businessman John Gregor (Simon Thorp) to share this  information. The two police officers arrest Sunny and Gregor and confiscate the flash drive only to have their car attacked, their two captives killed, and narrowly escape being murdered by the unknown assailants.
Security Services agent Grace Morrigan (Nikki Amuka-Bird) threatens the safety of Charlie's family unless he turns over the flash drive to her. Elaine who has seen the terrifying video that it contains refuses to give the drive to Charlie but instead runs off to share it with Paladin News Group reporter Will Benedetti (Ukwell Roach). Benedetti writes an article that is immediately discredited by the British government, but the damage is already done as some very unstable people believe the story to be true and will soon unleash a killing spree.
The following day finds unhinged Chris Chapel (Jamie Sives) brutally murdering publicist Sabina Kesinovic (Heidi Monsen) and her husband Dominic Vaughan (Steve Pound). He next kills four relatives of his estranged wife Maggie Sweeting (Christine Bottomley), the late Vaughan's mistress before Elaine and Hicks apprehend him. Disillusioned foreign aid worker Thom Blackwood (Richard Coyle) murders a suicide-helpline volunteer Jamie Unwin (Kristy Averton) and begins his serial "good Samaritan" slayings that terrorize London until Renko and Hicks, using Thom's priest as bait, finally arrest him.
A series of "suicides" gets the attention of DS George Mooney (Adrian Rawlins). Mooney believes that these are actually murders committed by a "Mr. Vice" (Anthony Carrigan), using the "Hard Sun" icon to attract people depressed by thoughts of impending doom. The London police are off to the races again, and there are enough loose ends by Hard Sun's final "sunrise" to certainly merit a Season 2.
In spite of its "sunny" title, this series is an extremely dark crime drama, played out against recurring images of a world clock ticking off the time remaining until the arrival of the "Hard Sun" apocalypse. The large cast is robust from top to bottom with special kudos to Ms. Deyn who seems to get consistently beaten, stabbed or slashed. Writer Neil Cross (Luther) delivers a well crafted, rapidly paced story that will grab viewers by their collective throats from the opening scene and not release its grip until Season 1 concludes. In a recent interview, Cross announced development plans for a second season of Hard Sun and if BBC One buys into it, hopefully we will get six more suspenseful episodes before life on Earth comes to a scorching halt. Highly recommended.
Hard Sun is streaming now in its entirety on Hulu
7 Mar. 2018
Original Release Date
Hulu
Network/Streaming Service
Euston Films | BBC | Hulu
Studio/Distributor
TV-MA (VL)
Rating Certificate
Summary
Two detectives with conflicting personalities (Jim Sturgess, Agyness Deyn) find themselves having to work together in a pre-apocalpytic world to fight crime in this gritty sci-fi crime drama from the creators of Luther.
What people say... Login to rate
Be the first to leave a review.
Show more