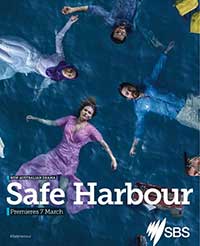 Five Australians, Ryan and Bree Gallagher (Ewen Leslie, Leeanna Walsman), friend Damien Pascoe (Joel Jackson), his girlfriend and Ryan's sister Olivia (Phoebe Tonkin), and neighbor Helen Korczak (Jacqueline McKenzie) are on their yacht Liberame ("Deliver Me"),  a name as ironic as is the title of this Hulu Originals miniseries, Safe Harbour.  On the Sea of Timor, they encounter an Indonesian fishing vessel adrift and dangerously overcrowded with men, women and children seeking asylum in Australia.  After taking Ismail Al-Bayati (Hazem Shamas) and his sick daughter Yasmeen (Maha Riad) temporarily on board, Ryan and company elect to tow the crippled ship to Australia. When a major storm looms ahead in their projected course, Damien recommends that they turn back for Indonesia. During the night the towrope gets severed and the following morning, the refugees' ship is nowhere in sight.
Five years later in Brisbane, Ryan is running a successful cabinetry company with Bree and Olivia but is no longer sailing his boat. Damien is out of the picture and Helen is on track for a judgeship. Ismail had survived the ordeal at sea and now drives a taxi cab with his brother Bilal (Robert Rabiah). He has tracked Ryan down through the internet and intentionally picks him up as a fare.  Ryan recognizes Ismail and invites the entire Al-Bayati family, wife Zahra (Nicole Chamoun), son Asad (Yazeed Daher) and Bilal to Sunday lunch.  This becomes a major mistake when Zahra lashes out at Ryan for cutting the towrope, an act that contributed to the death of Yasmeen and six others before the remaining asylum seekers were rescued.
Safe Harbour becomes a tale of two very disparate families, the Australian Gallaghers and the Iraqi Al-Bayatis. Ismail files a complaint against Ryan and his companions on the yacht for a Commonwealth crime of negligence. Attorney Graham Newland (Pip Miller), a senior colleague of Helen, agrees to help all of them during interrogations by AFP Officers Wade (Damien Garvey) and Matera (Andrea Moor). Eventually the case is dismissed for lack of conclusive evidence. There is still uncertainty about who cut the rope: was it someone on the Liberame concerned about their own safety or was it Bilal who stole the Liberame's dinghy and five life vests when he saw the ship had changed course for the country that they were fleeing?
Both families continue to be affected by the aftermath of the boating tragedy. Ryan's daughter Maddie (Elia Jaz Macrokanis) and Asad become close friends, a relationship that leads to some unexpected consequences. A serious rift occurs between Bree and Ryan when she admits to having had an affair with Damien who makes an unexpected return. The revenge-driven Bilal takes the rap for Ismail who blew up Ryan's boat as Helen comes to his defense. While the identity of the towrope cutter is eventually exposed, this revelation becomes less important than the consequences of a clash of cultures, religions, and family values.
Four scriptwriters have crafted an intense drama in Safe Harbour that shifts skillfully between the past and the present. Nothing turns out to be quite what it seemed on the surface and the cast creates strong characters who wear their raw emotions on their respective sleeves. While this story is fiction, it rightfully calls attention to the all too frequent plight of people who are victims of government persecution and risk their lives for a brighter future. I would encourage everyone, regardless of their beliefs or backgrounds, to see this show and discuss its issues after the curtain drops. Highly recommended.
Safe Harbour is streaming in its entirety on Hulu
Matt Cameron | Belinda Chayko | Phil Enchelmaier | Simon Kennedy
Show Creator
24 Aug. 2018
Original Release Date
Hulu
Network/Streaming Service
Matchbox Pictures | NBC Universal Television Distribution | Screen Australia | Screen Queensland | Hulu
Studio/Distributor
Summary
An intense psychological thriller set in Brisbane that pits two families against each other in this revenge-driven drama that rings true with today's international refugee crisis.
What people say... Login to rate
Be the first to leave a review.
Show more