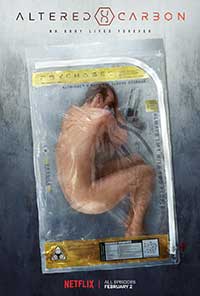 Based on Richard Morgan's prize-winning sci-fi novel, Altered Carbon jumps into the world of 2384 where "your body is not who you are, you shed it like a snake sheds its skin" refers to the ability to transfer digitized consciousness stored in cortical stacks to new bodies or "sleeves." The only people who cannot be resleeved are those with "Neo-C" or Catholic coding but this may change if the government passes Proposition 593 to revive murdered Neo-Cs to testify against their killers. "The Protectorate" is U.N.-defended territory that harbors the Aerium where the super-rich "Meths" (named after Methuselah) live and who can afford to get their consciousness resleeved indefinitely. This ten-episode series is set in Bay City, the former San Francisco.
There is open rebellion against the Protectorate and deceased "freedom fighter" Takeshi "Tak" Kovacs (Byron Mann) gets a sleeve that turns out to be the preserved body of the late Bay City detective Elias Ryker (Joel Kinnaman), former partner and lover of hotheaded Police Lieutenant Kristin Ortega (Martha Higareda). Ortega works for crooked Police Captain Tanaka (Hiro Kanagawa) and his ineffectual Fell Street police force; she still mourns the loss of her lover. Tak becomes Season One's occasional narrator  and eventually relates his  backstory that includes his one true love, the late warrior leader Quell Falconer (Renee Elise Goldsberry) and his younger sister Reileen Kawahara (Dichen Lachman) who may have an incestuous attraction to her brother and who owns an orbiting and highly profitable sex club. Kovacs meets his new "owner," trillionaire Laurens Bancroft (James Purefoy) and his elegant wife Miriam (Kristin Lehman). Laurens who, having had the foresight to get his stored memory stack transferred to an appropriate sleeve two days before he died believes that he was murdered. Kovacs is offered freedom and a sizeable reward if he can solve Laurens's case.
Kovacs takes up residence in Mr. E.A. Poe's (Chris Cooper) Raven Hotel while he works on a homicide that might actually have been a suicide. As his investigation proceeds, Tak avoids numerous attempts on his life and teams up with ex-Marine Vernon Elliot (Ato Essandoh) whose daughter Lizzie (Hayley Law), a hooker regularly hired by Bancroft, is now held captive in a virtual reality universe. Ortega also joins forces with Kovacs whose sleeve she has immediately recognized and they soon engage in an intense physical relationship. The pair skirts several nearly fatal encounters as the Bancroft murder investigation yields plenty of suspects: corporate attorney Oumou Prescott (Tamara Taylor), promiscuous Miriam, petulant son Isaac (Antonio Marziale), and Laurens himself.
There are still more subplots to be tidied up in this neo-noir dystopian drama. The distinctions between past and present, reality and fantasy, and the essential elements of personhood blur, leaving viewers continually wondering what will happen next. Show creator Laeta Kalogridis, working with six directors and two cinematographers, has effectively recreated the visual vibe of Ridley Scott's original Blade Runner with urban street scenes drenched in acid rain and skyscraper-high electronic billboards. Altered Carbon contains plenty of graphic violence, blood spatters, gruesome deaths, steamy sex, and sensational panoramas all of which make for a visually arresting show. Joel Kinnaman is a bruised and scarred Deckard redux with a buff body and a sullen demeanor. Coincidentally, his superb dramatic foil and nemesis James Purefoy voiced the Deckard role for the BBC's Blade Runner adaptation. The remainder of the cast in Altered Carbon is absolutely stellar with plenty of tough guys and even tougher sexy women. Netflix has committed to a Season 2 that will begin shooting this fall and will air in 2019. Can hardly wait!
Altered Carbon is streaming now in its entirely on Netflix
Laeta Kalogridis
Show Creator
2 Feb. 2018
Original Release Date
Netflix
Network/Streaming Service
Mythology Entertainment | Skydance Television | Netflix
Studio/Distributor
Summary
In a future world where people's conscientiousness is digitized, stored, and perpetually rebooted in new bodies, a prisoner (Joel Kinnaman) is awakened hundreds of years later to help solve the murder of a wealthy man. Altered Carbon is a well-crafted, visually stunning, and thrilling cyberpunk series that combines all the best elements of Blade Runner and Ghost in the Shell.
What people say... Login to rate
Be the first to leave a review.
Show more