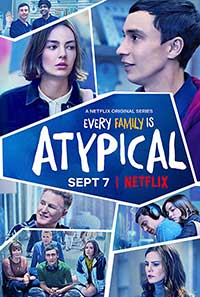 One of last season's unexpected hits for the Netflix streaming network, Atypical provided a sensitive, touching and occasionally humorous portrayal of a young man, Sam Gardner (Keir Gilchrist), a high school student with autism spectrum disorder (ASD) and how his family—father Doug (Michael Rapaport), mother Elsa (Jennifer Jason Leigh), and younger sister Casey (Brigette Lundy-Paine)—cope with Sam's often unpredictable behavior.  Season 1 began with Sam's first awkward attempts at entering the dating game and ended with Sam taking super smart classmate Paige Hardaway (Jenna Boyd) to the school's Winter Prom where they shared a "personal moment" in the igloo.
The second season opens with Elsa confessing to Doug about her now-ended affair with hunky bartender Nick (Raul Castillo). This not only drives a stake through the heart of their marriage but casts a shadow that hovers over the Gardner household for the nine remaining episodes. Doug temporarily moves out but then decides that it is Elsa who should leave as he will run the household while holding down his full time EMT job. Casey will attend Clayton Preparatory Academy on full scholarship; Sam is no longer dating Paige and is having problems finding a new therapist. He continues to tell his story with a combination of quirky monologues and personal cartoons while he wears noise-canceling headphones and remains fixated on Antarctic history and penguins.
Casey has a rough start at the snooty Clayton Academy, getting the cold shoulder from her new classmates and dealing with a very challenging curriculum.  Paige returns and lays down the rules for the "casual" relationship that she will now have with Sam. While Elsa eventually moves back in, Doug lays down the house rules for her role in the family. Casey meets Nate (Graham Phillips), the first "nice" guy at Clayton who is dating Izzy (Fivel Stewart) captain of the girl's track team.  After an accident on the running track, Casey and Izzy become BFFs.
A new character is Newton High School guidance counselor, Mrs. Whitaker (Casey Wilson) who also directs a peer group for autistic adolescents that Sam attends. She gives Sam directions for his college applications when she discovers his amazing talent for art. With Mrs. Whitaker's encouragement, Sam puts together a portfolio of his work and eventually gets accepted into a nearby college that has a program in scientific illustration—a perfect fit for Sam.
Atypical Season Two is more about the other members in Sam's family than was Season One.  We get to see the dynamics of a troubled marriage and the first steps that are taken gingerly to try to put it back together. We watch Casey struggle with peer acceptance and then rack up a few firsts: her driver's license, sex with boyfriend Evan Chapin (Graham Rogers), and her nascent feelings for another girl. Still, the greatest transformation that occurs over the ten episodes is Sam's becoming more insightful, resourceful, and independent, all essential components for entering the adult world, even as he still retains many of the overt trappings of ASD.
Atypical Season Two improves on its predecessor, as show creator Robia Rashid who wrote or co-wrote five of the ten episodes digs even deeper into a character with behavioral issues that impact all of those around him. Keir Gilchrist who is actually 25 years-old, as is Brigette Lundy-Paine, both create credible adolescents who are laden with the teenage angst that their parents just do not understand. Jennifer Jason Leigh, an accomplished film, television and stage actor, portrays perfectly a woman in mid-life crisis with layers of self-doubt about her appeal to her husband. Rounding out the Gardner family is film and television veteran Michael Rapaport, the stolid father-figure who begins a journey of self-enlightenment to better understand his complicated family. Each short-attention span 30-minute episode is an object lesson in how to blend drama and comedy and make it all work.  The high school graduation scene in Episode 10 will tug on your heartstrings, moisten your eyes, and make you hope that Netflix will deliver a Season Three in 2019. Highly recommended.
Netflix Original Atypical: Season Two is currently streaming in its entirety on Netflix
7 Sept. 2018
Original Release Date
Netflix
Network/Streaming Service
Netflix | Exhibit A | Sony Pictures Television
Studio/Distributor
Summary
A second season for the well received comedy-drama that improves on the original installment and gives viewers more character development, darker storylines, and an unerring sense of comic timing.
What people say... Login to rate
Be the first to leave a review.
Show more