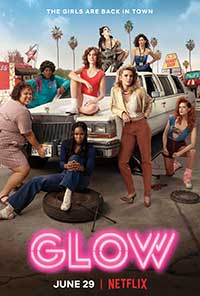 When Netflix  decided to revisit the old television world of 1980s female wrestlers, I was skeptical that a 21stcentury audience would buy into it. Boy, was I ever wrong and was the streaming network giant ever right. Loyal Season 1 viewers were rewarded with the reconstructed history of this campy "sport," and, yes, I recall that era all too well. GLOW (Gorgeous Ladies of Wrestling) Season 2 picks up the misadventures of a motley band of "sisters" who have become a small screen phenomenon on local LA cable station, K-DTV.
Led by failed schlock film director Sam Silvia (Marc Maron) and wealthy producer Sebastian "Bash" Howard (Chris Lowell), most of the original cast returns, led by Ruth Wilder (Alison Brie) "Zoya the Destroya," and her rival, new mother and former soap opera star Debbie "Liberty Belle" Eagen (Betty Gilpin). Other returning "star" wrestlers include chunky Carmen Wade (Britney Young) "Machu Picchu," psycho Sheila "the She Wolf" (Gayle Rankin), Sam's former mistress Rhonda "Brittanica" Richardson (Kate Nash), Tamme "Welfare Queen" Dawson (Kia Stevens), Arthie "Beirut" Premkumar (Sunita Mani) and big-mouth Melanie Rosen (Jackie Tohn) as "Melrose."  The GLOW crew continues to share rooms in the low-budget Dusty Spur Motel while they train for their upcoming matches.
An enhanced secondary storyline involves Sam's teenage daughter Justine "Scab" Biagi (Britt Baron) who has run away from his "ex," Rosalie (Annabella Sciorra).  Sam is a laissez-faire father for the daughter that he hardly knows and the pair begin an awkward bonding process.
Sam has replaced athletic Cherry Bang (Sydelle Noel), the original "Junkchain," with breakdancer Yolanda Rivas (Shakira Barrera) but the other women give her the cold shoulder instead of a warm welcome. As GLOW's ratings on K-DTV have plummeted, Sam decides that he will film only selected matches, so the GLOW girls must compete for television time and dollars every week. Ruth has what she believes is a promising "business" meeting with network head Tom Grant (Paul Fitzgerald) in his hotel room but this turns out to be nothing more than trying to get her in his bed.
The GLOW original airtime has been given to men's wrestling and their show has now been pushed to 2 AM, the cable TV graveyard shift. Cherry Bang (Sydelle Noel) has flopped in her new crime series and she becomes the voodoo priestess wrestler, "Black Magic." When Debbie meets her ex-husband Mark (Rich Sommer) and his new girlfriend Susan (Phoebe Strole), she flips out, gets high on cocaine before entering the ring, and breaks Ruth's ankle during the match. In the hospital, Debbie and Ruth finally have their "moment" and all the despair and disappointment that have built up between the former good friends (Ruth did sleep with Mark) comes gushing out.
Sam has developed a romantic interest in Ruth and insists that she stay in the show and spend time in his apartment. Since GLOW is going to get canceled anyway, he leaves the contents of the final episodes up to the cast before they go their separate ways.  We get send ups of some classic television shows that are so hokey and tongue-in-cheek, I am amazed that the cast was able to keep its collective straight face during the filming.  As GLOW Season 2 rides into the sunset, the women wrestlers' future remains uncertain but a pending move to the Sin City "strip" raises their spirits.
Season 2 gives us longer, deeper looks into the psyches of the principal characters, their personal daemons, their hopes and fears, and how important GLOW has become to all of them. Remembering what the 1980s entertainment industry was like, there are plenty of "#MeToo" moments that were part and parcel of getting ahead in the era of the "casting couch." While Betty Gilpin's nude shower scene might briefly get our attention, the ever-present 1980s pop song soundtrack will drill its way into our ears and stay there well after the end credits roll.  Show creators Liz Flahive and Carly Mensch have done it again and more than justify Netflix's renewal of this popular show. GLOW is infused with a counterculture vibe that not only makes each fast-paced 30-minute episode highly entertaining, but also makes me hanker for a Season 3.
GLOW: Season 2 is now streaming in its entirety on Netflix
Liz Flahive | Carly Mensch
Show Creator
29 Jun. 2018
Original Release Date
Netflix
Network/Streaming Service
Universal Television | Working Title Television | Netflix
Studio/Distributor
Summary
GLOW returns for Season 2 with original cast, new situations, and the same comedy-drama vibe that made it a Netflix smash in its first season. The wacky world of televised female wrestling has been well-rendered and provides ten episodes of sheer entertainment.
What people say... Login to rate
Be the first to leave a review.
Show more