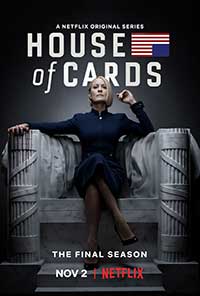 All good things must come to an end, as Netflix announced that its mega-hit series, House of Cards, will air its final season on November 2, 2018.  Fans of this show were clearly on tenterhooks about how Season 6 would play out after the abrupt dismissal of its lead, Kevin Spacey, following multiple allegations of sexual assault.
Season 5 ended with Claire Underwood (Robin Wright) becoming President when Francis Underwood (Spacey) abruptly resigned from office.  Season 6 begins with news that former President Underwood has unexpectedly died "in his sleep," as Claire now faces a host of mounting crises that kick off with a failed attempt on her life. Mark Usher (Campbell Scott), campaign manager of former Presidential candidate Will Conway, has become her Vice President but he is secretly in cahoots (and in bed) with this season's new adversaries: Claire's childhood friend, Annette Shepherd (Diane Lane) and her brother Bill (Greg Kinnear). These billionaire siblings have their own vision for America that only needs Claire's signature on a controversial energy bill, "The Future Act."  Former White House Aide Seth Grayson (Derek Cecil) now works for the Shepherd Foundation and tries to smooth things over between the Shepherds and the new President but Claire one-ups them by placing the Environmental Protection Agency under Pentagon leadership.
Francis Underwood's aide Douglas "Doug" Stamper (Michael Kelly) has undergone a sanity evaluation in a posh psychiatric hospital following his false confession to Zoe Barnes's murder. After being released and pardoned, Doug spends the rest of this season on a crusade to vindicate the late President and bring Claire down with his carefully hidden treasure trove of evidence that could blow the lid off the White House.
No House of Cards season would be complete without a Russian crisis or a nuclear crisis or both. This time President Petrov (Lars Mikkelsen) needs President Underwood to agree on troop deployments in war-ravaged Syria so that he can get access to vital seaports. Deputy Undersecretary for Commerce Jane Davis (Patricia Clarkson) is intimately involved with Claire who unexpectedly yields to Petrov's demands, a move that is quite unpopular in Congress.
When Claire disappears from public view for several weeks, tongues start wagging in the Beltway but, of course, it is all contrived. The Shepherds meet with Usher and other cabinet members to remove her from office as being unfit to serve.  In a countermove, Claire casts the shadow of unlawful collusion with the Russians over the current cabinet which she summarily replaces with an all-woman lineup. The Shepherds unsuccessfully try to recruit Stamper to undo Claire's presidency while they also cut the cord with Usher.  Claire plays yet another card when she has Bill Shepherd arrested for involuntary manslaughter, following the deaths of several workers at his Ohio chemical plant.  As in previous seasons, there is no shortage of sudden plot twists, dead bodies, and perilous presidential situations as Season 6 ends with some plot elements still dangling in the Beltway breeze.
Could House of Cards survive without Kevin Spacey and could this show's co-runners Frank Pugliese and Melissa Gibson get their act together on very short notice? Even in a shortened eight-episode season, it soon becomes clear that Robin Wright cannot carry the show on her own. Her frequent use of asides and "I need a moment" declarations that Spacey delivered so pointedly, prove to be distracting wastes of time, as do several flashbacks to Claire's past history.  With the exception of Doug Stamper's revenge-driven maneuvers, Mark Usher's covert operations, and Jane Davis's self-aggrandizing insinuation into the big energy picture, the rest of this large cast simply does not provide sufficient support or interest to carry Season 6 triumphantly across the goal line.
Numerous cut-and-paste situations propel the show forward but the final results provide less rather than more of what we got in the past and, like Jane's sudden death (was she poisoned?), often confuse rather than the clarify the storyline. The dramatic devices given the Shepherd family appear to be hastily sketched out like giving Bill an incurable illness or exposing their "son" Duncan's (Cody Fern) mysterious origins. Claire's "surprise" pregnancy that prompts her to resume her maiden name is yet another plot filler that adds little to a pretty humdrum drama. House of Cards fans, be happy with what you received during the past five seasons and kick these final episodes to the curb. I certainly will follow suit and look for better programming from Netflix in the future.
House of Cards: Season 6 is streaming in its entirety on Netflix
---
Beau Willimon
Show Creator
2 Nov. 2018
Original Release Date
Netflix
Network/Streaming Service
55-60 Minutes
Ep. Run Time
Netflix | Sony Pictures Television
Studio/Distributor
Summary
House of Cards' sixth and final season suffers from hastily rewritten plot devices and without Kevin Spacey's lead becomes a far less interesting political drama than was the case in previous years.
What people say... Login to rate
Be the first to leave a review.
Show more