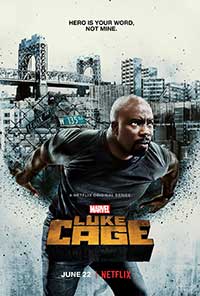 One of the 2016 highlights of the Marvel Films/Netflix collaboration was the first season of Luke Cage, a justice seeking and perpetually scowling superhero who tries to right every wrong in Harlem, New York. From the opening hip hop music, it becomes clear that Season 2 will pursue different plot directions and add some new characters.
Luke has become the neighborhood hero, as souvenir salesman D.W. Griffith (Jeremiah Craft) and adviser Bobby Fish (Ron Cephas Jones) try to cash in on the big man's fame.  Police detective Mercedes "Misty" Knight (Simone Missick) had previously lost her right arm in The Defenders and rejoins the force with a nifty new bionic prosthesis. Viewers might remember that she and Luke had a steamy one-night stand in Season 1 after which nurse Claire Temple (Rosario Dawson) became his main squeeze. Season 2 finds Claire bailing on Cage, making Misty Luke's female "interest" for most of the episodes that follow.
Numerous backstories fuel the relationships between the main characters. Ex-con Hernan "Shades" Alvarez (Theo Rossi) headed the group of inmates that nearly beat Cage to death in prison, occasioning the experimental treatment that made him a superhero. Shades is enjoying an intimate partnership with "Black Mariah" Stokes-Dillard (Alfre Woodard), a crooked Harlem councilwoman; he is also an eyewitness to her murder of her cousin Cornell "Cottonmouth" Stokes.  Mariah now works out of Cornell's Harlem Paradise nightclub as she and Shades deal arms to the various local gangs. Police Captain Tom Ridenhour (Peter Jay Fernandez), Misty's boss, was Mariah's high school prom date and now does part-time work for her, an after-hours job that eventually costs him his life.  Another backstory connects Mariah with powerful Jamaican John McIver (Mustafa Shakir), nicknamed "Bushmaster," after the rum company that Mariah's mother, Mabel Stokes (Latanya Richardson Jackson), stole from his family, leaving many of them dead in her wake. Like Cage, Bushmaster is on a mission to take down Mariah at all costs as he renews his super-strength with the deadly Nightshade concoction.
Both Luke and Mariah have parent issues.  Luke's estranged father Reverend James Lucas (Reg E. Cathey) finally contacts him and they gradually bond. Mariah's daughter Tilda (Gabrielle Dennis) is a former physician who now sells holistic medicines. As Mariah tries to reestablish a meaningful relationship with Tilda, the dark backstory of her daughter's origins surfaces.
There is open warfare between the crime bosses, Jamaican Nigel Garrison (Macc Plaise) and and Harlem's Dontrell "Cockroach" Hamilton (Dorian Missick). Drug trafficker Arturo "El Rey" Gomez III AKA "El Tercero" tries to broker a peace but things become complicated after Bushmaster eliminates Garrison by beheading him, and Shades takes out "El Tercero."
Much of what follows is the inevitable series of showdowns between Luke and Bushmaster, Mariah and Tilda, Shades and Misty, and the Jamaican "Mafia" and the rest of Harlem. This series offers echoes of the classic Greek tragedies that we were forced to read in high school, liberally sprinkled with characters from every crime syndicate in New York City, and covering such serious subjects as human trafficking, drug dealing, crime in the streets, and incest. Criminals bite the dust at a dizzying rate through the thirteen episodes with brutal mass killings becoming the rule.  Cage, Misty, and the rest of the NYPD think that justice has finally been meted out to the criminal element but there is every indication that they have only brokered a truce rather than a final defeat of the forces of evil.
Show creator Cheo Hodari Coker has done it again with thirteen seamless episodes even more intense and violent, if that were possible, than were their predecessors.  We get a much more complete picture of Luke Cage and his continuing struggles with personal daemons while Alfre Woodard's role as a wicked  Harlem crime boss is greatly expanded. Theo Rossi manages to carry off a hair-trigger sociopath who achieves a convincing physical relationship with a much older woman. Further kudos go to the welcome return of Simone Missick's Misty and the introduction of the late Reg E. Cathey as Luke's father. The brief appearance of Danny "Iron Fist" Rand (Finn Jones) adds little except to hint that this bland character might return in a future show. A major element contributing to the success of Season 2 is the integration of its music, both in an upbeat soundtrack and by actual live performances at the Harlem Paradise club, that truly drives the often frenetic pace of each episode.
As the curtain falls on another season of Luke Cage, Marvel fans should come away quite happy that the bar was raised this year and, if the rumors are true, a Season 3 will be coming their way next year.  Highly recommended.
Luke Cage: Season 2 is now streaming in its entirety on Netflix
Cheo Hodari Coker
Show Creator
22 Jun. 2018
Original Release Date
Netflix
Network/Streaming Service
ABC Television Studio | Disney-ABC Domestic Television | Marvel Entertainment | Marvel Studios | Marvel Television | Netflix | The Walt Disney Company
Studio/Distributor
Summary
A neo-noir Marvel Studios series that brings back superhero Luke Cage and a band of others in a second season that tops its predecessor.
What people say... Login to rate
Be the first to leave a review.
Show more