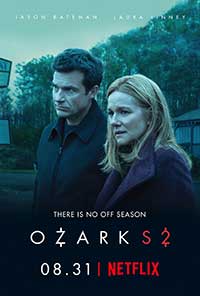 Ozark: Season 2 returns many of its original cast members headed by financial advisor Martin "Marty" Byrde (Jason Bateman), a money launderer for Navarro cartel jefe Camino Del Rey (Esai Morales) who gets offed by Darlene Snell (Lisa Emery) in Season 1's final episode. Marty moved his operation from Chicago to Lake of the Ozarks to protect himself, his wife Wendy (Laura Linney), daughter Charlotte (Sofia Hublitz) and son Jonah (Skylar Gaertner). He joins forces with local heroin czar Jacob Snell (Peter Mullan) and cagey young Ruth Langmore (Julia Garner) to make even bigger profits for the cartel.
Marty and Wendy meet with Helen Pierce (Janet McTeer), the cartel's lead attorney, and the Snells to discuss a casino project on the lake that could be a huge money laundering opportunity. Marty and Wendy solicit help from wealthy entrepreneur Charles Wilkes to enable legislation to raise the number of casinos allowed in Missouri, the first step toward getting their project launched. Next, Marty asks old Buddy Dierker (Harris Yulin) who still lives with the Byrdes, to get a construction crew from old friend and Kansas City mob boss Frank Cosgrove (John Bedford Lloyd). After the casino bill gets passed, a sizable piece of the Snell's property must be developed. but Jacob and Darlene balk when they find out that there will be a huge commercial development on this land.
Chicago-based FBI agent Roy Petty (Jason Butler Hamer) reenters the picture and coerces Rachel Garrison (Jordana Spiro), former owner of Marty's Blue Cat Lodge, to spy on Marty to avoid a long prison sentence. The FBI agent fixes Rachel with a wire and gives her a regular supply of drugs. Although Petty receives little tangible information from Rachel, he launches an FBI raid on the Byrdes' lake house that yields nothing. A spooked Marty decides to move the cartel money to the mausoleum that his funeral home built for Buddy who died after torching the Snell's poppy fields.
Meanwhile, serious fault lines appear in the Byrde family as Charlotte begins spending more time with Ruth's cousin Wyatt Langmore (Charlie Tahan) and succeeds in becoming an emancipated minor. Jonah is even more withdrawn but shows a budding talent for money laundering himself. If all of this were not enough, Wendy and Marty have taken in baby Zeke, the son of Pastor Mason Young whom Marty shot after the minister had kidnapped Wendy.
Darlene continues to be upset with what is happening to their property and, in revenge, gets her drug mixers to spike their heroin with Fentanyl, a potentially lethal concoction. This news travels quickly to attorney Pierce who puts out a hit order on the Snells that nearly succeeds in killing Jacob.  In spite of everything, the Snell-Byrde-Navarro consortium get their casino license approved, after Ruth has negotiated the purchase of a paddlewheel steamboat that needs a lot of work. Seeing more threats coming his way, Marty devises a tricky exit strategy for his family while Darlene comes up with her own "final solution" that again threatens to derail the casino project.
The deliberate pace of this neo-noir show picks up as do its murders, mayhem, and misdemeanors that, at times, seem to be taken right out of a Shakespearean tragedy. When compared to Season 1, show creators Bill Dubuque and Mark Williams have produced ten chapters in Ozark: Season 2 that seem to get even darker as we become better acquainted with the principal characters and their personal situations. I was even more impressed by the women of the series than I was during last season: Laura Linney is a tougher cookie; Julia Garner is a more resourceful young adult; Sofia Hublitz comes of age; Lisa Emery is a Southern Lady MacBeth; and Janet McTeer comes across as a plain scary "tall drink of water." The addition of Cade Langmore, Ruth's criminal father, to the cast gives us the wildcard character whose unpredictable antics spice up each episode. Season 2 completes some of its numerous storylines while leaving several others up in the air, hopefully to be revisited in a not yet announced Season 3. Highest recommendation.
Ozark Season 2 is streaming in its entirety on Netflix
Bill Dubuque | Mark Williams
Show Creator
31 Aug. 2018
Original Release Date
Netflix
Network/Streaming Service
Zero Gravity Management | Media Rights Capital | Netflix
Studio/Distributor
Summary
Netflix's smash hit series Ozark digs even deeper and becomes even darker as the strong female characters drive Season 2 forward with a vengeance.
What people say... Login to rate
Be the first to leave a review.
Show more