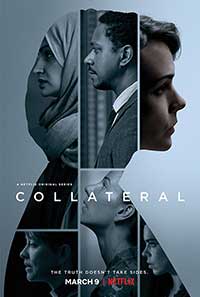 David Hare's latest television drama, the mini-series Collateral, starts off with a literal bang as Regal Pizza deliveryman Abdullah Asif (Sam Otto) is gunned down after delivering a pizza to drug-user Karen Mars (Billie Piper), the ex-wife  of MP David Mars (John Simm). MP Mars also happens to be sleeping with Deborah Clifford (Saskia Reeves), his party's leader. This seemingly random murder sets off a tangled sequence of events that draws in such diverse entities as the London police department, MI5, the British Army, illegal immigrants, dope dealers, and human smugglers.
Pregnant DI Kip Glaspie (Carey Mulligan) and DC Rahkee Shah (Vineeta Rishi) interview Regal Pizza manager Laurie Stone (Hayley Squires) to no avail, as she is on the take from the "new ownership," a front for human traffickers. Glaspie next interviews deliveryman Mikey Gowans (Brian Vernel) who was originally scheduled for the pizza delivery but,since he uses pizza deliveries to drop off drugs or "special toppings," he is no help.   DS Nathan Bilk (Nathaniel Martello-White) questions Linh Xuan Huy (Kae Alexander) the only eyewitness to the shooting but she was high on drugs that night and only gives him a false name as she has overstayed her UK visa. Linh is the lesbian lover of local Anglican priest Jane Oliver (Nicola Walker) and her illegal visa extension was unwittingly approved by David Mars.
DI Glaspie discovers Abdullah's sisters, Fatima (Ahd Kamel) and the pregnant Mona (July Namir) and takes them from a garage to a detention center where,  being Iraqi and not eligible for asylum, they will await deportation. Special Forces Captain Sandrine Shaw (Jeany Spark) suffers from PTSD. After she makes a clandestine call to Peter Westbourne (Richard McCabe), owner of Pimlico Travel (a front for his human smuggling operation), her burner phone gets discovered by Major Tim Dyson (Robert Portal). Dyson, a notorious womanizer, coerces Sandrine to have sex, and, in exchange, he will keep his lips sealed.
In the wake of Laurie Stone's unintentional murder, Westbourne, undercover agent Berna Yalaz (Maya Sansa), and boatman Mehmet Akman (George Georgiou) regroup to plan more illegal human transports. We find that Captain Shaw is also involved in this dirty business (she tossed the murder weapon in the drink in Episode 1), as Westbourne, an ex-military man, has strong ties to her family.
Collateral shifts into high gear when MI5 agent Sam Spence (John Heffernan) joins Glaspie and Bilk as they question Fatimah about  Abdullah's death. When Glaspie finds a video on Fatima's phone  that exposes Westbourne's illegal transport ring, this kick-starts a desperate race to prevent the ringleaders' from escaping the authorities.
Writer Hare and director S.J. Clarkson have collaborated on a dark British crime thriller that blends foreign intrigue with some good old-fashioned boots-on-the-ground detective work. Each of the four episodes is loaded with unexpected turns as Collateral's expanding web ensnares just about every member of this outstanding cast, led by baby-faced inspector Carey Mulligan who is anything but as innocent as she appears to be. A successful show makes its viewers actually care about its characters and Collateral succeeds on all counts. The issues of war-zone refugees and human smuggling make this mini-series quite relevant to our current troubled times. Highly recommended and, keeping my fingers crossed, we will get a Season 2.
Collateral is streaming now in its entirety on Netflix
2 Feb. 2018
Original Release Date
Netflix
Network/Streaming Service
BBC 2 | The Forge | Netflix
Studio/Distributor
TV-MA (Language, Sexual Situations, Violence)
Rating Certificate
Summary
Collateral is a tense British crime thriller that blends foreign intrigue with drug dealing, targeted killings and good old fashioned detective work.
What people say... Login to rate
Be the first to leave a review.
Show more