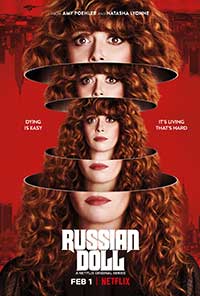 The trope of a Russian doll with its nest of one smaller figure inside of another might be a bit of a reach for this new Netflix Original series as such an object only appears in one episode or, perhaps, it refers to the principal character Nadia Vulvokov (Natasha Lyonne) who is a "doll" with a Russian surname. Nadia is a software engineer (we rarely see her working in any of the episodes) and is celebrating her 36thbirthday when her life suddenly changes. After leaving a bar with a random guy that she picked up at the party, Nadia gets hit by a car and dies, but this is just the beginning of recurring loops of fatal accidents.
If you have seen Groundhog Day, then you will immediately understand the device of Harry Nilsson's "Gotta Get Up" as the ear-worm song that resets Nadia's life each time that she enters the bathroom in friend Maxine's (Greta Lee) apartment where her birthday party is in progress.  Nadia's social life is rather complex. She experiments with cocaine-laced joints, attends a lesbian sleep-over with Maxine and her girlfriend Lizzy (Rebecca Henderson), and continues an on-again-off-again romance with divorced real estate agent John Reyes (Yul Vazquez).
In subsequent episodes of Russian Doll, Nadia dies under different circumstances: falling down a flight of stairs, into a basement, and off a fire escape; freezing to death on the street with a homeless man; having a heart attack; choking on food—you get the picture.  About halfway through the series, Nadia has managed some coping strategies to avoid her previous fatal situations. That all changes when she meets Alan Zaveri (Charlie Barnett) in an elevator that suddenly loses control and plunges for several flights killing both of them.  Alan is a tightly buttoned-down nerd also trapped in his own live-die-repeat cycles that begin with his brushing his teeth to a Beethoven piano concerto. He was going to propose marriage to long-time girlfriend Beatrice (Dascha Polanco) only to discover that she is sleeping with her college professor Mike Kershaw (Jeremy Bobb) the same guy that Nadia picked up at the bar before her first fatal accident.
Nadia and Charlie join forces to reconstruct the moments leading up to their respective deaths so that they can reset the trajectories of their real lives.  However, this proves to be a very bumpy road with many unanticipated consequences.
Russian Doll is a quirky dark comedy that pushes the boundaries between the plausible and implausible, as two lonely and very different people converge on what could be the next phase of their terrestrial lives. There are some noteworthy cameos–Ritesh Rajan as Alan's friend Ferran, the proprietor of the local deli, Chloe Sevigny as Nadia's dysfunctional mother, and Elizabeth Ashley as Ruth Brenner, Nadia's psychologist/surrogate mother. But this is really Natasha Lyonne's show and she pushes all the right buttons at the right time as a hard-drinking, hard-partying, foul-mouthed single woman who is trying to work through her mid-30s angst and find a meaningful relationship with a man.  The Dia de los Muertos parade that ends the final episode leaves things literally hanging for a possible Season 2.   Netflix is being close-mouthed on whether this will happen, but this show is one of the true breaths of fresh air in a media world whose creative boundaries are being continually being constrained by political correctness.
Russian Doll is streaming in its entirety now on Netflix
---
Leslye Headland | Natasha Lyonne | Amy Poehler
Show Creator
1 Feb. 2019
Original Release Date
Netflix
Network/Streaming Service
3 Arts Entertainment | Paper Kite Productions | Jax Media | Netflix
Studio/Distributor
Summary
A quirky dark comedy in which a young woman is trapped in recurring loops of her own death until she finds a young man with the same problem. Together these two lonely people try to find their way back to a normal life but not without their share of romantic complications.
What people say... Login to rate
Be the first to leave a review.
Show more