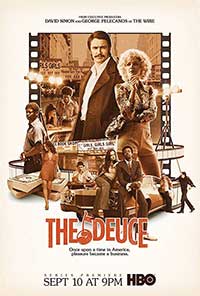 Times Square in the early 1970s looked quite different from what today's tourists see. Movie theater marquees featured "adult" films, hookers and their pimps paraded up and down the streets, and open drug dealing was the rule and not the exception. "The Deuce" was a stretch of 42nd Street between 7th and 8th avenues where many a sleazy transaction took place. The Deuce of this new 8-episode HBO series also alludes to its central character, struggling bar tender Vincent Martino (James Franco), whose identical twin brother Frankie is a low-life gambler. The Deuce is populated by its night creatures: veteran "working girls" Eileen "Candy" Merrell (Maggie Gyllenhaal), Darlene (Dominique Fishback), Shay (Kim Director), Loretta (Sepideh Moafi), Ruby "Thunder Thighs" (Pernell Walker), Ashley (Jamie Newman) and newcomer Lori (Emily Meade). The "girls" are run by their pimps: Jerry Love (Tariq Trotter), Rodney (Cliff "Method Man" Smith), Larry Brown (Gbenga Akinnagbe), and C.C. (Gary Clark). Crooked Lieutenant Sweeney (Shaun O'Hagan) tells his district policemen to leave the street traffic alone since routine arrests of the hookers result in dismissed charges and immediate bailouts by their "macs."
Vince 's marriage to sleep-around wife Andrea (Zoef Kazan) is failing. To make matters worse, Vinnie "The Chin" Gigante (John Dinello) pressures him to repay Frankie's huge gambling debt owed to mobster Rudy Pipilo (Michael Rispoli). To retire the debt, Vincent's best friend Bobby Dwyer (Chris Bauer) skims money from the payroll at the construction company where he works. One of the numerous continuing storylines finds saucy NYU student Abigail "Abby" Parker (Margarita Levieva) putting in extracurricular time with one of her professors. Later, to the dismay of her upper-crust parents, Abby drops out of NYU and hits the streets.
Rudy gets Vince to run a new bar for him; Abby is hired as one of the mixologists and Big Mike (Mustafa Shakir) becomes the "muscle man." Candy does her first porn movie for producer Harvey Wasserman (David Krumholtz) and sees the adult film industry as her passport to financial security and personal safety since she works without a pimp to protect her.
Undercover reporter Sandra Washington (Natalie Paul) cozies up to beat cop Chris Alston (Lawrence Gilliard, Jr.) to help her write a series on life in the red light district; however, without a named source her publisher refuses to run most of it. Vince's bar becomes very successful and Rudy offers him another opportunity to make even more money by opening a massage parlor that is a front for you-know-what. Bobby will run it and the local pimps will provide the girls. Change may be on the horizon for the Deuce when the 14th District gets a new police commander, the no-nonsense Captain Peter McDonagh (Ed Moran).
The Deuce is a gritty series that shows a New York City prior to Mayor Rudy Giuliani's major "clean up the streets" campaign. This production nails the era's scenery, cars, wardrobes, hairstyles, and characters that all contributed to a generally prurient environment. Prostitution, pornography, the blatant exploitation of poor women, and drug abuse, heavily seasoned with graphic violence and rough sex, are challenging subjects for a television series and run the risk of offending many of HBO's loyal viewers. To the credit of show creators George Pelecanos and David Simon and the network, no punches are pulled and these topics are presented in absolutely unvarnished terms. Several directors including James Franco teamed up to provide a nearly seamless collection of episodes while veteran cinematographer Vanja Cernjul (Orange is the New Black) produces stunningly realistic images. A great cast led by Franco and Gyllenhaal makes The Deuce a binge-worthy series. There are numerous situations that remained unresolved when the curtain dropped on Season 1, and viewers have reason to hope that they will be taken up again as The Deuce has just been renewed for a Season 2.
The Deuce is now available for viewing on demand on HBO and its affiliated streaming services HBO Now and HBO Go.
George Pelecanos | David Simon
Show Creator
25 Aug. 2017
Original Release Date
HBO
Network/Streaming Service
Blown Deadline Productions | Home Box Office
Studio/Distributor
TV-MA (Sex and nudity, violence and gore, profanity, alcohol, drugs, and smoking)
Rating Certificate
Summary
The Deuce gives a gritty, tough-as-nails portrayal of rough sex, drug dealing, and crooked cops that was the Times Square of the early 1970s and the beginning of the American porn industry.
What people say... Login to rate
Be the first to leave a review.
Show more