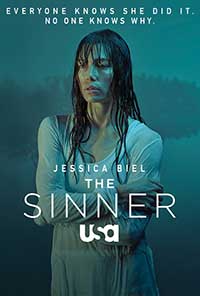 In USA Network's  limited series The Sinner, Cora Tannetti's (Jessica Biel) life changes forever when she, husband Mason (Christopher Abbott), and young son Laine (Grayson Eddey) visit the lake at Dorchester state park. Profoundly depressed, Cora considers drowning herself in the lake but changes her mind and returns to the beach where she sees Frankie Belmont (Eric Todd) and his wife Leah (Teri Wyble) making out. When "Huggin' & Kissin' " blares out of Leah's mobile phone, Cora suddenly freaks out and stabs Frankie to death with a paring knife.
After her arrest, Cora pleads guilty to murder and declines to stand trial but a concerned Judge Barrett (Peggy Gormley) mandates a competency assessment. Cora is imprisoned but Detective Harry Ambrose (Bill Pullman) believes that there is much more to this murder case and begins to search for an answer to this apparently motiveless killing. Cora thinks that she slept with Frankie five years ago but her "memories" either contain big gaps or are completely fictitious. The detective engages Dr. Tammy Chang (Mia Katigbak) to hypnotize Cora and begin to piece together the events of the weekend of July 3, 2012 that led to her subsequent problems.
Much of The Sinner is told in retrospect. Young Cora (Jordana Rose) and her little sister Phoebe (Rileigh McDonald) were raised by their religious fanatic mother Elizabeth Lacey (Enid Graham). Phoebe (Nadia Alexander) has miraculously survived non-Hodgkin's lymphoma but has become a homebound young adult, weakened by chemotherapy. She visits online dating sites to find men to marry her big sister so they can both run away to Florida. Cora's personal life has long been subordinated to Phoebe's illness and she secretly plans to run away after she hooks up with local drug dealer J.D. Lambert (Jacob Pitts).
Detective Ambrose's marriage to Fay (Kathryn Erbe) is failing, he engages in rough sex with the hefty waitress Brenda (Wendy Rich Stetson) and is becoming obsessed with Cora. The police officer unofficially tries to stir her memory of the weekend in question and all roads eventually lead to the exclusive Beverwyck Country Club. There is a startling new development when Cora "leads" Ambrose to the burial site of a young girl in the woods near the club. According to State Police Detective Farmer (Joanna Adler), this finding could link Cora to yet another killing. In a race against time, Ambrose desperately seeks to find mitigating evidence to explain the killing or Cora will spend the next 30 years in prison.
The Sinner starts with an apparent open-and-shut murder case, but then proceeds to probe the dichotomies of guilt versus innocence, and perception versus reality. Jessica Biel delivers a stunning portrayal of a young woman with a very troubled past and who now just might be a victim of cruel circumstance. Her supporting cast is superb, particularly Bill Pullman as the dogged detective and Nadia Alexander as the sex-starved little sister. Derek Simonds has crafted a riveting adaptation of Petra Hammersfahr's crime novel and his directorial team keeps the show's pace tense and edgy. This eight-episode limited series will engross its audience and is assuredly a cut above most fare that the networks lob at us every summer. Highly recommended.
The Sinner premiered on USA Network August 2, 2017.
Derek Simonds
Show Creator
2 Aug. 2017
Original Release Date
USA Network
Network/Streaming Service
Iron Ocean | Universal Cable Productions | NBC Universal Distribution
Studio/Distributor
TV-MA (Language, Sexual Situations, Violence)
Rating Certificate
Summary
USA Network's The Sinner is a taut psychological thriller with a strong cast that probes the nature of guilt, innocence, and the dark secrets hidden in a small New York town.
What people say... Login to rate
Be the first to leave a review.
Show more