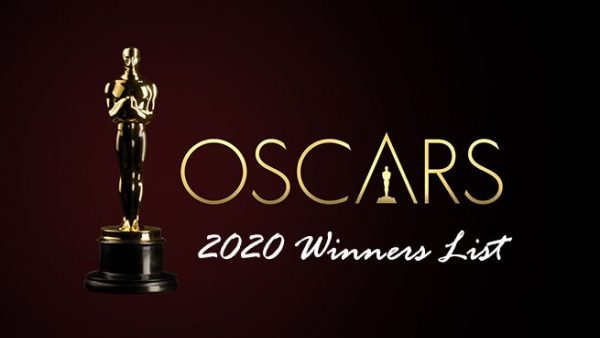 Sunday, February 9, 2020. Punxsutawney Phil predicted an early spring for this year and, as if on cue, ABC aired the 2020 Academy Awards ceremony two weeks earlier than usual, mercifully shortening the anxious waiting and hoping for its nominees. Before an all-star line-up of presenters and eventual Oscar winners got their time on the big stage, Janelle Monae tried to energize the audience with a gender-crossing Mr. Rogers impression that morphed into a bizarre song-and-dance number leaving many in the audience just scratching their heads.  For the second year in a row, this was a host-free show although there were host-like appearances by previous Oscar hosts Steve Martin lamenting that "this is a demotion" and Chris Rock making a not so oblique reference to Oscar-nominated Cynthia Erivo "hiding Black nominees from the Academy." As it turns out, this was the stand-up comic moment of very long evening.
There were relatively few surprises in store for those seated in the Dolby Theater or the millions watching the Oscar broadcast on the small screen. As expected, Brad Pitt was named Best Supporting Actor for his stuntman role in Once Upon a Time…in Hollywood and Laura Dern got her Best Supporting Actress golden statuette for her portrayal of a ball-busting divorce lawyer in Marriage Story. Also as expected, Joaquin Phoenix's turn in Joker got him a well-deserved first Best Leading Actor award after three previous nominations and Renee Zellweger's spot-on portrayal of the troubled screen star and singer in Judy earned her a second Oscar and her first for Best Actress.  
The precedent-setting Best Picture award went to Bong Joon Ho's Parasite, the first foreign-language film to be so recognized by AMPAS, and one that also garnered Best Director, Best Original Screenplay, and Best International Feature Film Oscars, making it the evening's big winner. 1917, the front-runner going into the Academy Awards show, came away with three Oscars for technical achievements—Sound Mixing, Cinematography, and Visual Effects, while the well-received Ford v Ferrari garnered two awards for Best Sound Editing and Best Film Editing.
A favored nominee Once Upon a Time…in Hollywood received only one additional Oscar for Best Production. Ironically, Martin Scorsese's big moment came not from The Irishman that went zero for ten in the Awards column but from an affectionate tribute by big winner Bong Joon Ho who singled out the noted director as one who inspired him to make movies.
A few of this award ceremony's best moments:
Brad Pitt's shout out to director Quentin Tarantino, costar Leonardo DiCaprio and his children
Laura Dern's moving acceptance speech that recognized her movie star parents, Diane Ladd and Bruce Dern.
Cynthia Erivo's through-the-roof rendition of the anthem "Stand Up" from Harriett
Elton John performing "I'm Gonna Love Me Again" from Rocketman
Hildur Gudnadottir's acceptance speech as the third female composer to win a Best Original Score Oscar for Joker
Eminem's unexpected 18-year delayed performance of his Oscar-winning song "Lose Yourself"
There were also some not so memorable moments:
James Corden and Rebel Wilson decked out as "Cats."
Maya Rudolph and Kristen Wiig's lame efforts to pass themselves off as "actors."
The well-intentioned but extremely awkward presentation for Best Live Action Short Film by Shia LeBoeuf and his protege Zach Gottsagen, a young man with Down Syndrome.
Utkarsh Ambudkar giving a gratuitous Oscar recap during the show's half-time break.
The Will Ferrell and Julia Louis-Dreyfuss duo whose unseen "earpieces" gummed up their awards presentation.
Overall Assessment: The pace of this second host-free Academy Awards ceremony lacked the discipline of last year's broadcast, plodding along for nearly four hours. Some of this was due to longueurs provided by celebs introducing the celeb award presenters since the acceptance speeches tended to be pretty concise. Political commentary was mercifully brief and there was the expected lip service to diversity and gender equality. Joaquin Phoenix's rambling apologia pro vita sua acceptance speech did call out (and rightfully so) the cruel "cancel culture" that vilifies celebrities, often without justification.  The biggest surprise of the night was the Best Picture Oscar handed out to Parasite, a film that I frankly thought was not nearly as good as some of the other contenders. That said, we will see if American audiences eagerly embrace this subtitled South Korean winner as it would an English language movie. Once again, Tinseltown has had its annual moment in the sun and, if like the proverbial Pennsylvania groundhog, Hollywood does not see its shadow there may yet be some bright new films awaiting us in 2020.