Internet Killed the Radio Star
A creation of 28 year old former DJ (and the creator of the ion USB turntable), the Livio Radio is a cool desktop gadget that I'm not quite sure anyone needs at first glance, but hey, 5 million people have bought iPads in the last few months, so let's continue.
For $200, you get a tabletop radio about the size of a Tivoli with a 3 inch ported speaker.  Sound quality is about what you'd expect from a 3-inch speaker, but that's not the point.  Thoroughly anticipating the demise of terrestrial radio, there is no FM tuner built into the Livio.  Yep, this little jewel only receives internet radio stations and is optimized to work with the Pandora music service.  It even takes advantage of Pandora's "thumbs up and thumbs down" service with two buttons so you can rate the selections that magically arrive at your Livio.  As Pandora is completely free of charge and pays no royalties to the music industry, it could be questionable as to how long it will stay afloat as a business model, at least as a "music for free" source.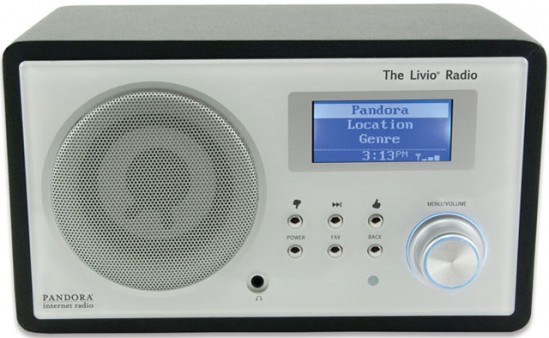 Fortunately, the Livio has more capability than this.  It can also access other Internet radio stations using the Recieva network, giving you access to about 20 thousand Internet radio stations.  It will also share music on a PnP filesharing network, which just happens to be where I have a few thousand albums stored on my Naim HDX SD music server.  This proved to be the format I found most useful, though if you have a large iTunes library on your Mac or PC, you can also get a PnP client for your computer, so that you can access your digital files that way as well. There's a happy meal remote in the box and the instruction manual is well written, so most people should be able to get the Livio rocking within about five minutes or less.
How to Connect
The Livio includes an internal wireless Ethernet antenna, or if need be you can hardwire it into your network with the supplied Ethernet jack which I thought was a nice touch. iPod users can also jack their iPods into the Livio, using the proper iPod cable and feeding into a 1/8-inch stereo jack.  The big bonus is the stereo output jack on the rear panel that allows you to connect the Livio to a pair of powered speakers.
As I mentioned at the beginning of the review, the sound quality is really no big deal and is pale in comparison to the Tivoli's, but they don't access internet radio, so one pays a price for access.  If I were buying the Livio for this reason alone, I'd pass.  The sound quality just doesn't warrant spending $200 for this thing, as you can get a decent pair of powered computer speakers and run Pandora on your computer.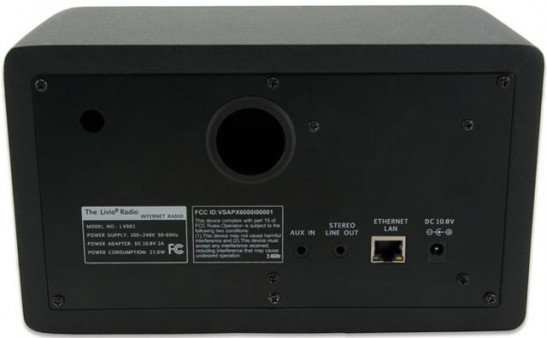 But the real power in this device is the connectivity.  As a mini music server combined with the ability to connect your iPod and then use powered speakers, the Livio is a bargain as an internet tuner/preamp.  Combined with a $350 pair of Audio Engine A5 speakers, this makes for a rocking compact stereo system.  I was thoroughly impressed with the sound quality at the high level output and could easily see something like this to fit well in a dorm room, apartment or garage system.
Headphone sound is also quite good and was able to drive my Sennheiser 650's without issue.  Again, this could be a great bedside hi-fi system that also includes an alarm clock with five different functions.
The Definitive Word
So in the end, the real strength of the Livio is its connectivity.  The sound quality may or may not justify the purchase to you, however the folks at Livio offer a money back guarantee if you don't find it satisfactory, so you can't lose.  In Pandora terms, as a stand-alone radio, thumbs down, as part of a system, thumbs up. If you've already got a music server in your house or really enjoy Pandora, the Livio could just end up being the coolest thing under your Christmas tree (or Hanukkah bush) this holiday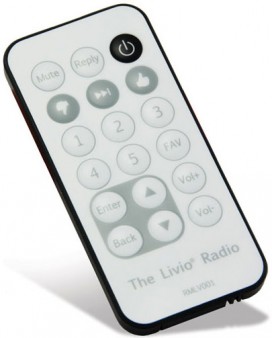 season.
The Scorecard:
Design:
[Rating:3.5/5]
Performance:
[Rating:4/5]
Value:
[Rating:3.5/5]
Overall:
[Rating:3.5/5]
The Livio Pandora Radio
[amazon-product]B002DUCQZ2[/amazon-product]