The Ultimate Ears company website unabashedly describes their UE MEGABOOM, as "a 360-degree Bluetooth speaker that blasts freakishly amazing sound to every corner of the party." This was exactly the experience that I anticipated as I popped the lava red (it comes in many other striking colors) mini-tower out of its black carrying case.
Not Your Daddy's Portable Loudspeaker
Designed for "crazy, wet, muddy, and downright spontaneous adventures," and giving you permission to leave your phone behind, the latest firmware/software version allows the UE MEGABOOM speaker to recognize Siri commands (iOS) and Google Voice (Android) that address music on their smart phones and play them. Outdoors folks rejoice, the MEGABOOM is waterproof so you can enjoy music at the pool or seashore (Ultimate Ears claims that immersion up to 1m and for up to 30 minutes will be OK but why would you really want to do this?) Download the UE App to your smart phone and there is a helpful guide and settings to get the most out of this speaker.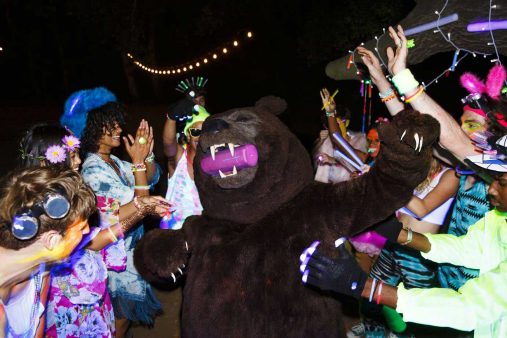 There are a lot of coolness factors, but first, let's get the party started. Out of the box the MEGABOOM needs to be charged via a micro-USB cord and wall plug. There is a protective bottom cover that can be completely removed, revealing a micro-USB port, a 3.5 mm mini-plug and to complete the layout, a central connection for a mounting on an optional tripod. It took me about three hours to get the 100% signal that the lithium ion battery was ready to go for twenty hours of music. More good news is that the UE MEGABOOM battery can be replaced, if needed. Once charged up, a central power button illuminates when activated and in front is the Bluetooth button that makes a bada-bing-bada-boom sound effect when it starts blinking. After a stable connection is achieved the blinking light is extinguished. This speaker can be connected with the recent Bluetooth Smart wireless audio profile (Advanced Audio Distribution Profile or A2DP).
The driver complement of this small tower consists of a pair of 2" high-midrange units and two 2" x 4" passive radiators, covering a stated frequency range of 65-20kHz and capable of generating 90 dB maximum SPL. Up to 8 Bluetooth-enabled devices can be paired with each MEGABOOM and in turn a single source can be streamed to two MEGABOOMs simultaneously.
I wish that I could have used the PartyUp function that can link up to 50 UE speakers (including the smaller BOOM 2) but judging from what I got out of a single UE MEGABOOM, I could only imagine that being surrounded by Booms would generate an out-of-body effect. You can also play DJ through this speaker to kick start your dance party. To get the best sound in your listening space, the app has a 5-band customizable equalizer, definitely a must for outdoor listening. No remote control, no problem. There is a "tap" control on top that you strike once to play, once to pause, and twice to skip the selection. My experience with this function was that while it worked it took some repetitive efforts to make it perform.
Party On
The coolness continued with the Siri voice commands that started music (when it could be made to respond). I mated this speaker with the Amazon Echo Dot Generation 2 wireless controller (with which it was bundled) and this became my primary listening set up although other sources (see below) were also checked out. The Echo Dot got access to my iTunes music library, Amazon Prime Music, Spotify, Pandora, and a variety of TunedIn radio stations, all in very nice mp3 sound. Switching musical gears was a piece of cake and seamless.  Streaming from both my iPhone6 and my MacBook Air was also flawless and I fed the MEGABOOM files ranging from CD-quality to high-resolution FLAC files (up to 192kHz/24-bit); my Audirvana player showed that hi-res stuff was down-converted to 44kHz/16-bit resolution.
I spent hours with this little red tower of power and ran the gamut of music from classic rock (Led Zeppelin), Mississippi Delta blues (Sonny Boy Williamson), contemporary jazz (Keith Jarrett), cutting-edge neo jazz/pop (Esperanza Spalding), among others. Consistent sonic impressions were a big sound that easily filled my 16' x 12' x 8' listening room. Dispersion was extraordinary and gave the illusion of a much bigger speaker system. The bass was ample without being boomy. Where the MEGABOOM yielded some ground to my reference Bowers & Wilkins T7 Bluetooth speaker was in the airiness of the higher frequencies. Again, in the outdoor party setting pictures that populated the UE website, this might not be a critical issue for casual listeners who just want to have fun.
The Final Assessment
The Ultimate Ears MEGABOOM may be the kick starter for some epic poolside fests and at the asking price of $299, you could encourage a few of your good friends to ante up and get their own MEGABOOMS to assemble a multichannel wireless speaker surround system that will make everyone's ears smile. And with the UE's exclusive PartyUP feature, friends can wirelessly connect up to 50 MEGABOOM speakers to take partying to a whole new level, putting the UE MEGABOOM in a category of its own when it comes to Bluetooth speakers.
Specifications:
Bluetooth Connectivity

Advanced Audio Distribution Profile (A2DP)

Audio

Two 2" high/mid drivers; 2" x 4" passive radiators

Frequency response

65Hz-20kHz (maximum SPL: 90 db)

UE App

Compatible Android and iOS devices

Power

micro USB charging cable/ power adapter

Weight
Dimensions (W x H)

3.3" (83 mm) diam x 8.9" (226 mm) ht
Editor's Note: This review was updated to add mention of the UE MEGABOOM working together with the Amazon Echo Dot.
Ultimate Ears: UE MEGABOOM Bluetooth Speaker (TheaterByte Gear Review)
Pros
Ease of set up
Terrific lifestyle appeal
Ideal for outdoors
Cons
Siri voice command operation can be a bit spotty
Tap control took some effort but worked
Summary
As bold little speaker capable of filling a room with sounds that belied its size and can start a rowdy party by poolside
What people say... Login to rate
Be the first to leave a review.
Show more