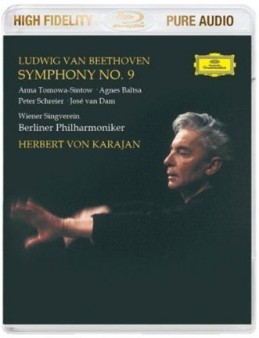 – –

The Album
[Rating:4.5/5]
From the opening movement of Ludwig van Beethoven's titanic Symphony No. 9 ("Choral"), listeners will get the distinct impression that they are in for a special experience. And that is exactly what they get. Herbert von Karajan, legendary leader of the Berlin Philharmonic, had performed this Beethoven masterpiece many times with the BPO and this 1977 recording was his second with this orchestra, and followed a well-received 1962 version.
Even those who are unfamiliar with most classical music will recognize Friedrich Schiller's "Ode to Joy" that makes up most of this symphony's final movement but the Ninth Symphony is much more than the extended choral section. Opening with a true "sturm und drang" Allegro movement, a dance-like second movement reminiscent of the Seventh Symphony immediately follows. The third movement is an elegiac adagio with an achingly beautiful main theme. The final movement has two sections, a frenetic presto that introduces the theme that begins the "Ode," followed by the finale complete with chorus (Wiener Singverein) and four soloists, soprano (Anna Tomowa-Simtow), contralto (Agnes Baltsa), tenor (Peter Schreier), and bass (Jose van Dam).
Maestro von Karajan's performance is easily one of the most exciting that I have ever heard and, in spite of its spirited tempi, von K. maintains complete control over his forces. Compared with his earlier effort that was no slouch, this one bests it in every conceivable way, soloists, chorus, and recording quality.
Audio Quality
[Rating:3.5/5]
My experience with the Deutsche Grammophon catalog, in general, was that it had, under contract, some of the world's leading classical musicians and orchestras that produced some of the very finest performances of numerous concert staples. However, DGG's strong suit did not reside with many of their audio engineers. The High Fidelity Pure Audio Blu-ray reflects a supreme effort to correct this situation. The solo sections are clear, the four vocalists are easily heard, the chorus is reasonably articulate, and the strings appropriately warm. On the downside, the bass is a bit murky and the forte sections tend to swallow up orchestral details.
Supplemental Materials
[Rating:1/5]
The late Michael Steinberg, renowned music critic and musicologists, contributed an enlightening essay on the creation of this, Beethoven's final symphony. The text for Schiller's Ode to Joy is also included.
The Definitive Word
Overall:
[Rating:4/5]
Of the many excellent versions of the Beethoven Ninth Symphony, this last von Karajan/Berlin Philharmonic  is perched very close to the top of the list, in spite of rather stiff competition from such towering performances as the Georg Solti/Chicago Symphony Orchestra or the Toscanini/NBC Symphony, among numerous others. Some of von K.'s performances, particularly later in his career could be willful, occasionally to the point of perverseness, but this one avoids all of those traps.  In point of fact, those who love this work will almost certainly own more than one performance (I own 15!). With a sound restoration job that makes this recording sound as good as it is ever likely to sound, this would be one Beethoven Ninth that a classical music lover could build their Beethoven library around with complete confidence.
[amazon-product region="uk" tracking_id="bluraydefinit-21″]B00BRGL4OW[/amazon-product]
[amazon-product region="ca" tracking_id="bluraydefinit-20″]B00BRGL4OW[/amazon-product]
[amazon-product]B00BRGL4OW[/amazon-product]