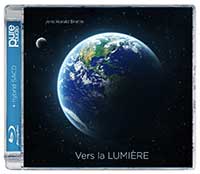 This is a father-and-son recital featuring the piano of highly-regarded Norwegian pianist/composer Jens Harald Bratlie and the electroacoustic accompaniment by son, David who is also a composer. The eclectic playlist has four substantial piano works of the 19th and 20th centuries that are separated by three electronic and piano versions of the elder Bratlie's title piece, Vers la LUMIÈRE (toward the LIGHT).
Antonio Bibalo: Sonata No. 2 for Klavier "La Notte"
Franz Liszt: Vallee d'Obermann (from Annees de Pelerinage)
Olivier Messiaen: Regard de l'Esprit de joie (from Vingt Regards sur l'Enfant Jesus)
Olivier Messiaen: Regard du Père (from Vingt Regards sur l'Enfant Jesus)
These pieces all share their personal journeys from darkness into light as expressed by the composers represented in this recital. Antonio Bibalo was an Italian-Norwegian composer-pianist who wrote a number of cutting edge works for his instrument that, like this sonata, remained melodically accessible. Liszt, the 19th century's "rock star" piano virtuoso, composed a set of three suites and the Vallée d'Obermann is contained in the first year of his "pilgrimage" that began in Switzerland. It expresses the composer's fears and doubts as he tries to find his place in a dark and forbidding world. Messiaen was one of France's best known 20th century composers who often bathed his unique sonic portraits of groups of complex chords like the Twenty Contemplations of the Infant Jesus in his deep sense of spirituality.
The Audio
The digital master was recorded in DXD audio (352.8kHz/24bit) and then mixed down to a 5.1 DTS-HD Master Audio or 2-channel LPCM (both at 192k/24bit resolution). There are two alternative sound tracks that are now appearing on this label's most recent releases: 9.1 Auro-3D (96kHz/24bit) and Dolby Atmos (48kHz/24bit). Both are object-based audio codecs that in the case of the former uses surround, height and overhead ceiling tracks, and, for the latter, multiple location-specific channels that include height as well as front-back, side, and surround. The Sofienberg Church in Norway is one of 2L's favorite recording venues and is quite sonorous with noticeable reverberation. My system is neither Auro-3D nor Dolby Atmos capable (the former is reproduced as DTS-HD Master Audio 5.1 (96kHz/24bit) and the latter as Dolby TrueHD 7.1 (48kHz/24bit). All of the soundtracks are magnificent and for naturalness of the piano sound and location, I preferred the higher resolution DTS-HD Master Audio 5.1 version.
The Supplements
A hybrid multi-channel SACD and mShuttle downloads in MP3 and FLAC formats are included. The program booklet presents performing and production credits as well as background essays on the pieces, brief biosketches of the performers and some recording session photos.
The Final Assessment
Vers la LUMIÈRE is a splendid program of some very challenging piano pieces that are well accomplished by the elder Bratlie and supported by his son's sound effects when indicated. I was pleased to encounter Bibalo's music for the first time and will certainly pursue more of his compositions going forward. As expected, 2L's sonic presentation is absolutely as good as piano recordings get and I would not be at all surprised to hear this disc demo'ed at future audio shows. Highly recommended.
Jens Harald Bratlie | David Bratlie
Artist
PCM 2.0 Stereo (192kHz/24bit) | DTS-HD MA 5.1 (192kHz/24bit) | Dolby Atmos (48kHz/24bit) | Auro-3D 9.1 (96kHz/24bit) | DSD (SACD) | mShuttle (mp3/MQA)
Audio
Summary
A splendid father-son recital of some challenging piano works rendered in demonstration-quality sound.
What people say... Login to rate
Be the first to leave a review.
Show more