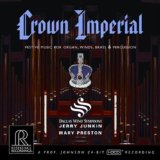 – –
The Album
[Rating:4.5/5]
Conductor Jerry Junkins has taken over direction of one of the premiere wind ensembles in the United States, the Dallas Wind Symphony, and led it to new heights commemorating its founder Howard Dunn. This program, Crown Imperial, brings us some of the better known symphonic band pieces in the current repertory. Several of these works like the Daugherty paean to one of the world's natural wonders are receiving their digital recording premieres.
Those who do not consider band music to be serious classical fare better reconsider their preconceptions. Many of the greatest classical composers wrote for this very type of ensemble, including Mozart, Beethoven, Dvorak, and Wagner, to name but a few. Opening with a majestic Festival Intrade by Richard Strauss, this program is an example of what great composers can do for smaller less traditional symphonic ensembles.
The playlist includes:
Richard Strauss: Festival Intrade: (6:20)
Gabrieli :Canzon: Primi Toni: (4:01)
Walton: Crown Imperial: (10:33)
Tomasi: Procession du Vendredi Saint: (9:33)
Grainger: County Derry Air: (6:27)
Wagner: Elsa's Procession to the Cathedral: (3:45)
Hindemith: Kammermusik No. 7: (15:20)
Daugherty: Niagra Falls: (10:07)
This eclectic program covers three centuries of music for wind ensemble and is a great way to hear the evolution of this musical genre. The Dallas Wind Symphony, playing at the very highest level, gets both the proper musical and recording treatment.
Audio Quality
[Rating:5/5]
The Meyerson Symphony Center in Dallas is a great recording venue and the Keith Johnson forces do it proud. There is a sense of air that wind ensembles must have and it is here to the nth degree. I have simply not heard band recordings any better than this one. The palpable soundstage with nigh perfect balance puts listeners directly in the center of the hall and that is all that one could ask for.
Supplemental Materials
[Rating:0.5/5]
Sorry, cover art only, no liner notes with this one.
The Definitive Word
Overall:
[Rating:4.5/5]
While the centerpiece of this recording is Walton's Crown Imperial written for the coronation of King George VI, there is a wealth of music that will thrill listeners, particularly those new to the world of classical band music. Given the state-of-the-art recordings that we now expect from Keith Johnson, this one will give your stereo system a work out and your ears over an hour of musical delight.  Hopefully, more of the Reference Recording's  Dallas Wind Symphony programs will get the hi-res makeovers that they so richly deserve.