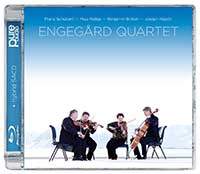 2016 marks the 10th anniversary of Norway's eminent Engegård String Quartet whose members are Arvid Engegård (founder and first violin), Alex Robson (second violin), Juliet Jopling (viola) and Jan Clemens Carlsen (cello). This Pure Audio Blu-ray disc marks the Engegårds' debut for 2L Records and presents four quartets that literally span the four-century long history of this musical genre.
The program opens with one of Franz Schubert's best-known quartets, the No.13 in A minor, D.804, Op.29, subtitled "Rosamunde" (34:45), and taking its. Second movement theme from Schubert's incidental music to the play, "Rosamunde, Furstin von Zypern" (Rosamund, Princess of Cyprus). Dedicated to Schubert's friend, Ignaz Schuppanzingh, a well-known Austrian violinist the prevailing mood is a sense of longing, particularly evidenced by the entry of cello in the Minuetto.
Suddenly moving to the 21st century, the group takes on young Norwegian Maja Ratkje's String Quartet No.1, titled "Tale of Lead and Light." Composed in 2011, this brief single movement work (11:26) briefly recalls Beethoven's Razumovsky quartets, the Op. 59, No.1. Ratkje's inspiration came directly from the 2011 terrorist attack in Oslo. The composer states "It was hard to compose. Papers and online media were soon filled with horrible pictures from the events. The lead-colored skies being a recurring sight. The ambiguity of the title reflects both hope and dread. Beethoven's light shines through, strong and full of life." The stark score is periodically pierced by shrieking string figures, possibly echoing the cries of the victims on that tragic day, until the quartet fades away into a transmogrification of the Beethoven theme.
English composer Benjamin Britten wrote his String Quartet No.2 in C Major, Op.36 (27:45) in 1945 shortly after the end of World War II. Its concluding Chacony is a passacaglia with 21 variations on a theme by Henry Purcell, England's most famous composer. The quartet premiered on the 250th anniversary of Purcell's death.
Going in historically reverse order, the Engegårds conclude their concert with a quartet by Franz Joseph Haydn, recognized as the creator of this musical form. The C Major Quartet Op.76, No.3 (23:45) is nicknamed "The Emperor" after a set of variations in the second movement based on a piece written by Haydn and dedicated to Kaiser Franz, "God Save Emperor Francis" and now better known as the German national anthem, "Deutschland, Deutschland Uber Alles."
This is a masterful program that exploits the wide variety of expression possible in works for only four string players. I have always felt that chamber music brings listeners closest to the innermost voices of their composers and this sentiment is well support by the accomplished players in this ensemble. It is unusual to find string quartets that can so capably shift their musical gears in works that differ in style as much as do the four in this recital and the Engegårds do it so effortlessly.
The Audio
There are two high-resolution versions, DTS-HD Master Audio 5.1 and LPCM 2.0, both in 192kHz/24-bit resolution, that are derived from DXD (352.8kHz/24-bit) original masters. The recording session photos in Norway's famous Jar Church show the players in a semicircle facing the array of microphones with cellist Carlsen mounted on a platform about two feet higher than his colleagues. This arrangement gives better definition to the sonorities of the low-voiced member of the quartet but all of the other strings receive incredible attention to their individual voices.
The Supplements
A hybrid multi-channel SACD (sadly omitting the Haydn quartet due to playing time constraints) and MP3 and FLAC downloads via mShuttle. The program booklet has background essays on all of the works and a brief biosketch of the ensemble along with the track listings and production credits.
The Final Assessment
Chamber music recordings simply do not get much better than this 2L Pure Audio Blu-ray that represents a premiere recording for all of the works in this high-resolution format.
Engegård Quartet: String Quartets by Franz Schubert, Maja Ratkje, Benjamin Britten, and Joseph Haydn (TheaterByte Blu-ray Audio Review)
$32.99
MSRP
31 March 2015
Release Date
PCM 2.0 Stereo (192kHz/24-bit) | DTS-HD Master Audio 5.1 (192kHz/24-bit) | DSD | mShuttle (mp3/FLAC)
Audio
Summary
2L gives us the a high-resolution recording of the Engegård Quartet performing string quartets that spans the history of this musical genre and receives performances that are as good as it gets.
What people say... Login to rate
Be the first to leave a review.
Show more