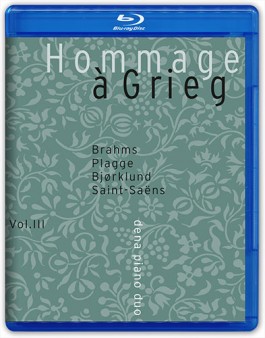 –
The Recording
[Rating:4.5/5]
Duo piano programs are heard infrequently on the concert stage, partly due to the relatively small size of the repertoire and partly due to the scarcity of duo piano teams that can truly bring these pieces off.  We are fortunate with this 2L release that features the Dena Piano Duo, better known as  Heide Gortz and Tina Margareta Nilssen. The Dena Duo has concertized extensively over the past decade, and presents a seamless set of four hands.
The program itself is an interesting blend of something old, something new, and all related directly or indirectly to Norway's most famous composer Edvard Grieg. The first piece is a well known set of variations that Johannes Brahms, a good friend of Grieg's, wrote for  both orchestral and duo piano, based on Haydn's St. Antony's Chorale.  The middle two pieces are very contemporary works by living Norwegian composers, Wolfgang Plagge (Grieg Metamorphoses) and Terje Bjorklund (Homage à Grieg).  The Metamorphoses takes its start from "The Watchman's Song," one of Grieg's Lyric Pieces.  The Homage presents transformations of several Grieg themes, as if, quoting the composer, "Grieg meets Bartok, Stravinsky, and Arvo Part." Camille Saint-Saens, another Grieg friend, returns us to the more standard form in his Variations sur un Theme de Beethoven, the theme coming from the Beethoven Piano Sonata Op. 31/No. 3
The high level of pianism, coupled with superb sound recording makes this a delightful excursion through serious works of the 19th and 21st centuries.
Audio Quality
[Rating:4.5/5]
The piano is a notoriously difficult beast for the recording team to tame, let alone two of them. Here we benefit from the choice of Oslo's Sofienberg Church, an acoustic space that is reverberant but not excessively so, coupled with deft mike placement that allows us to distinguish the individual contributions of both artists. The natural piano sound is presented in both 5.1 DTS-HD Master Audio or 2-channel LPCM at192kHz/24-bits, from a 352.8kHz/24-bit DXD master. The former gives us more individual clarity for both instruments.
Supplemental Materials
[Rating:4/5]
The generous folks at 2L give us a two-fer in most of their recent issues. Here this is a high-resolution multichannel SACD and the other audio formats (mShuttle Pure Audio for your computer as noted in the introductory disc data).  Another superb program booklet informs us about the pieces in this recital as well as the artists.
The Definitive Word
Overall:
[Rating:4.5/5]
If you have not guessed by my previous 2L reviews, I continue to be impressed by this label's forays into the not so familiar classical repertoire. Great sonics coupled with a high level of performance artistry make this an easy recommendation for all music fans. My only regret is that at less than one hour's playing time, I wish that we had been afforded more of this duo piano team's work, like Rachmaninoff's four-hand piano suites (surely the two composers must have heard of each other!)
–
[amazon_enhanced asin="B00BK6HQB4″ /]