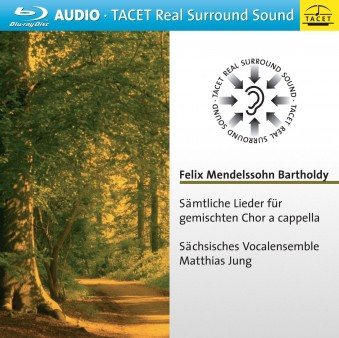 –
The Album
[Rating:4.5/5]

Samtliche Lieder fur gemischten Chor a cappella (Complete songs for mixed unaccompanied chorus) brings together all five volumes that Felix Mendelssohn composed for this vocal ensemble of mixed women's and mens' voices plus two additional songs without opus number.  As might be anticipated from the tradition of early romantic part-songs, most of these selections deal with nature, the great outdoors and related outdoor activities like hunting, the seasons, and, occasionally love. The playlist follows
Six Lieder op.41 (10:53)
Six Lieder op. 48 (13:43)
Six Lieder op. 59 (14:32)
Six Lieder op. 88 (13:20)
Six Lieder op. 100 (7:48)
Festlied zu Zeiters 70.Geburstag, WoO (2:31)
Die Frauen und die Sanger, WoO (3:00)
Sadly, only the first three songbooks were played during Mendelssohn's short lifetime. While not as prolific as his German counterpart Franz Schubert, Mendelssohn had an obvious affinity for secular part songs as evidenced in this recital.  As the 19
th
century was also the golden age of German poetry, the composer often used verses by some of the leading poets of his day including Heinrich Heine, Johann Wolfgang von Goethe, Nikolaus Lenau, and Josef von Eichendorff. Most of the songs in this collection are brief, usually lasting less than three minutes, yet within that short span, Mendelssohn creates a small world of vivid images.  As in Die Nachtigall (The Nightingale), Op.59, No.4, Mendelssohn frequently uses a canon or roundelay, moving the verse refrain around the chorus to great effect.  Another delightful selection is a 70
th
 birthday song for one Herr Zeiter, one of two songs without Opus number (WoO).
The Sachsische Vocalensemble is a youthful group of eighteen men and women who clearly understand and enjoy this repertoire. Their vocal timing is spot on and their blend flawless, due no doubt to the skilled leadership of the ensemble's founder, Matthias Jung.

Audio Quality
[Rating:4.5/5]
As is the case with Tacet recordings, two versions are included: a 5.1 channel (96kHz/24-bit) surround track and a 2.0 channel (96kHz/24-bit) alternative. Tacet audio engineers deliberately put the listener in the middle of the singers and their recording diagram shows the altos in the left rear, the sopranos in the left front, tenors in the right front and basses in the right rear channels. The overall effect is a stunning, immersive sound stage that is model of clarity (German-speakers would not need a libretto here).  The two-channel version is fine in its own right but not nearly as exciting or engaging as its multi-channel counterpart.

Supplemental Materials
[Rating:1.5/5]
A very thorough program booklet contains a background essay on Mendelssohn and his songs by Birgit Schreier, and brief notes on the vocal group and its director. English translations of the songs fill out the remainder

The Definitive Word
Overall:
[Rating:4.5/5]
Mendelssohn's four-part songs were extremely popular during their day and, in listening to this program, one can readily understand why. Disarmingly simple in their construction, one can imagine many amateur vocal groups taking on these charming little numbers. With that in mind, it is even more pleasurable to hear them performed by such an accomplished vocal ensemble. A delight from beginning to end, the hour-long program passes all too quickly. Highly recommended.