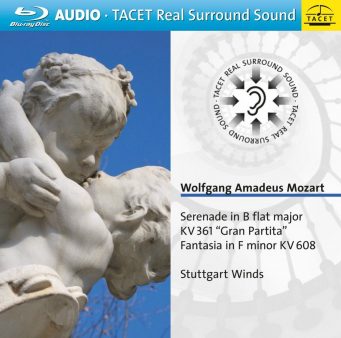 – –

The Performance
[Rating:4.5/5]
Wolfgang Amadeus Mozart was a prodigious composer in his relatively short life, creating over six hundred works covering literally every musical format of his era. The two pieces in this wind recital are less well known selections from the Mozart catalog but could be considered minor masterpieces in their own right:
Serenade in B-flat major K.361, "Gran Partita" (47:10): Described by famed conductor Nikolaus Harnoncourt as an "opera for thirteen instruments, this seven moment piece gives each of the wind sections its due. The movements themselves are perfect realized symphonic-like pieces that went well beyond the usual expectations of the serenade format.
Fantasia in F minor K.608 (9:15):  This work began its life as a fantasy for barrel organ, a popular mechanical instrument of the eighteenth century. In this recital it has been arranged for wind octet by clarinetist Dirk Altmann and offers a perfect complement to the Gran Partita.
The Stuttgart Winds are members of the Radio Symphony Orchestra Stuttgart of the SWR. Its members are pairs of clarinets, oboes, basset horns, and bassoons, and four French horns. Their ranks are augmented by a double bass in the Gran Partita. This ensemble has been performing since 1998 and besides the works of Mozart, their repertoire includes wind music of Leos Janacek, Richard Strauss, Igor Stravinsky, and Edgar Varese.

Audio Quality
[Rating:4.5/5]
In the 5.1 surround version of the Gran Partita, the oboes and clarinets are located across the front, basset horns and bassoons are on the sides, and the horns with double bass are in the rear.  This immersive arrangement allows listeners to get a much clearer sense of each instrument's voice than is the case in the two-channel version that is excellent in its own right.

Supplemental Materials
[Rating:1.5/5]
The program booklet has a background essay on the Gran Partita by Thomas Seedorf, and a summary of an interview involving recording engineer Andreas Spreer, clarinetist Dirk Altmann, oboist Anne Angerer, and bassoonist Hanno Donneweg, Each of the participants give their views on the works in the program.

The Definitive Word
Overall:
[Rating:4.5/5]
Immersive recordings this well done give listeners an entirely new perspective on familiar and not so familiar works. The discrete location of the various wind instruments in this recital accomplishes something that standard proscenium recordings just cannot do. Providing the ability to hear the individual voices of the wind instruments is a true revelation as traditional recording techniques, as good as they might be, occasionally lead to smearing of each player's leading edge. Recording techniques alone would be meaningless if the program were not as superbly realized as it is by this world-class wind ensemble. An audio only Blu-ray disc that is well worth seeking out.
[amazon-product region="uk" tracking_id="bluraydefinit-21″]B00HEVJ2FM[/amazon-product]
[amazon-product region="ca" tracking_id="bluraydefinit-20″]B00HEVJ2FM[/amazon-product]
[amazon-product]B00HEVJ2FM[/amazon-product]