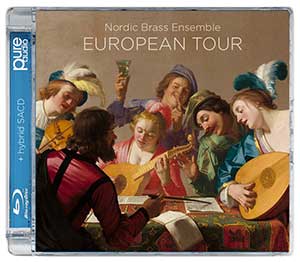 The Renaissance movement that began in 14th century Italy quickly spread across Europe and included all art forms: music, painting, sculpture, and literature. Renaissance music was polyphonic and often incorporated brass instruments such as those used by the Janissaries, an elite infantry group in the Ottoman Empire's armies that were skilled musicians as well as soldiers. Much of their playlists were "battaglias" or battle music that summoned the troops to combat. The Nordic Brass Ensemble, founded in 1993, has a wide-ranging repertory that includes many Renaissance compositions. Its members are premier brass players from Nordic orchestras, including the Trondheim Symphony, Bergen Philharmonic, Oslo Philharmonic, Norwegian Wind Ensemble, Norwegian National Opera, Royal Stockholm Philharmonic, Norwegian Radio Orchestra, and Gothenburg Symphony. The ensemble recruited for the following playlist (the composers are found in parentheses) was composed of four trumpets, one French horn, four trombones, a tuba, a cimbasso and percussion:
Suite "European Tour" (Pareja, de la Torre, and Weck)
Battalla de Morales (de Arauxo)
Pie Jesu Domine (de Morales)
Suite "Terpsichore" (Praetorius)
Tristis est anima mea (Gesualdo)
Music from the court of Christian IV (Pederson, Dowland)
Circumdede me runt (de Morales)
Pavane la Battaglia (Susato)
Jerigonza (Flecha)
Holborne Suite (Holborne)
Dolcissima mia vita (Gesualdo)
Music from the court of Louis XIII (Philidor)
Revecy Venir du Printans (Le Jeune)
La Battaglia (Banchieri)
Susato Suite (Susato)
Although some of the thirty-two selections like the pieces by Gesualdo, Dowland, and Le Jeune were originally written for voice, Hans Petter Stangnes and Stian Aareskjold, two of this group's trumpet players, skillfully arranged them all for the NBE. While 75 minutes of a recital of ancient brass music might seem a bit daunting, the considerable variety in timbres and rhythms makes this program literally fly past listeners.
The Audio 
The DXD audio (352.8kHz/24bit) master was mixed down to a Pure Audio 5.1 DTS-HD Master Audio or 2-channel LPCM (both at 192kHz/24bit resolution). Recording was done in a favorite 2L venue, the spacious Jar Church in Oslo, Norway. Like most of the 2L discs that I have heard from this "studio" this one has considerable airiness and a very realistic post-echo. The performance photos place the trombones on the left, the trumpets on the right, with the tuba and cimbasso in the center, and the tympani in the rear. When heard in the 5.1 surround version, this is a very immersive recital with solid bass thwacks and full-throated brass voices. Those who prefer more of their music upfront will be quite pleased with the LPCM 2.0 alternative.
The Supplements
2L is quite generous with its bonus material, in this case a hybrid multi-channel SACD and mShuttle downloads in MP3 and FLAC formats. The program booklet is rather slim by this label's standards, featuring a background piece on the origins of the Renaissance and its music, the performing ensemble, track listing and performance and production credits. I would have liked to have a bit more on the composers and the pieces in this concert as, with the exception of the Praetorius Suite, most will be new to those not steeped in music of this period.
The Final Assessment
I have been continually spoiled by the high quality of 2L Blu-ray audio-only discs as they consistently offer the best in performance and production values. NBE's "European Tour" is the newest entry in the growing library of Morten Lindberg's recordings and one that I can recommend at the highest level to both those familiar and those coming to this musical genre for the first time.
Nordic Brass Ensemble: European Tour (TheaterByte Blu-ray Audio Review)
Nordic Brass Ensemble
Artist
LPCM 2.0 Stereo (192kHz/24bit) | DTS-HD MA 5.1 (192kHz/24bit) | DSD | mShuttle (mp3/FLAC)
Audio
Summary
A stupendous recital of Renaissance brass music by the Nordic Brass Ensemble that gets the very best sound treatment by the 2L studio.
What people say... Login to rate
Be the first to leave a review.
Show more