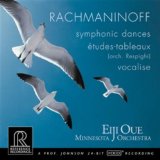 – –
The Album
[Rating:5/5]
Unquestionably one of the great orchestral writers of the 20th century, as well as a piano virtuoso, Sergei Rachmaninoff continued to create great music up to the end of his long career. The Symphonic Dances, completed in 1940 was Rachmaninoff's final orchestral piece before his death in 1943.
Reference Recordings has already issued HDCD and HRx CD-ROM versions of this disc. The playlist follows:
Symphonic Dances: (36:55)
Vocalise: (6:50)
Etudes-Tableaux: (23:30)
By the time of this recording, Maestro Eiji Oue had gradually molded his Minnesota (former Minneapolis Symphony) Orchestra into a dynamite ensemble, fully capable of providing the dynamic range that these big pieces require. Always the great melodist, Rachmaninoff's sense of rhythms is precisely conveyed by the players.in each of the above selections. The collection of Etudes-Tableaux is actually an orchestral transcription of piano miniatures by 20th century Italian composer Ottorino Respighi with each telling its own little story.
The current "Super Hi-Rez" 176.4kHz/24-bit download, courtesy of Acoustic Sounds (www.acousticsounds.com), is now the latest and possibly greatest incarnation of a fabulous orchestral recording.
Audio Quality
[Rating:5/5]
Getting an orchestra to sound right means that the listening perspective recreates the "wall of sound" for which the orchestra-seat ticket holders shell out the big bucks. Keith Johnson gets the "magic mikes" to capture this sonic perspective and deliver it to listeners with the warmth that live music always has and that many recordings never achieve. This is truly demonstration quality sound of great music.
Supplemental Materials
[Rating:2/5]
Eric Bromberger's original liner notes give us some intimate details about each of these works. Brief backgrounds on maestro Oue and his orchestra complete the booklet. Original cover art is also supplied.
The Definitive Word
Overall:
[Rating:5/5]
Shall I say another hit for the RR folks? There have been copious recordings of these pieces but Rachmaninoff gets it absolutely right from all of the perspectives of musical and sound values. I have never heard the the essential atmosphere of each of these pieces so well reproduced. My HRx disc (which I compared head-on with this one) sounds virtually identical but, at nearly half of that release's price, the current download has got to be considered an audio bargain.