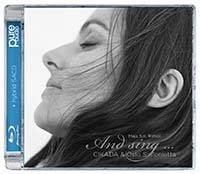 Oslo's well-respected 10-member Cikada ensemble has been playing avant-garde music for more than a quarter of a century. In this Pure Audio Blu-ray Disc, the Cikadas collaborate with Norwegian composer/singer Maja S.K. Ratkje on the first of two extended works for voice and instrumentalists. Ms. Ratkje next joins forces with the Oslo Sinfonietta, Norway's oldest contemporary music group, that shares its artistic director Christian Eggen with Cikada.
"And sing while thou on pressed flowers dost sleep" (20:33)
Concerto for Voice (moods IIIb) (23:24)
"And sing" takes its title from Titania's response to Bottom in Act III of Shakespeare's A Midsummer's Night Dream although the connection with the iconic comedy is not obvious. It features sound clips of Ratjke's recorded vocalizations interspersed with the sounds of the individual instruments and although the sounds frequently resemble electronic music, everything in this piece has an acoustic origin. The composer describes this work as follows: "the recorded voice sounds that are played back also serve as a score for all of the instrumental parts. This means that the work cannot be realized with a soloist singing live. It is the exact contents in every recorded sound that determine everything in the score. … The work's long final session has also been constructed based on an idea which has impinged itself on my original compositional idea: one by one the musicians are replaced by a recording of me singing, peeping or whistling their aprt, while they instead switch to playing a pattern of short notes that we heard earlier."
"The Concerto for Voice" has a live Ratkje and is cast in a more traditional soloist/ensemble form. Again, in the composer's own words: "Thematically, the work begins with a progression of chords—these are so-called spectral chords derived from spectrum analysis of the tenor saxophone. …The harmonic side theme to the spectral chords is a three-tone-based motif taken from common frequencies in selected multiphonics—these, too, from the saxophone….the idea of using an old typewriter occurred to me, as a sort of sidekick to the solo voice."
Both of these works share a very pronounced modernity that often substitutes interpolated and seemingly random sound effects for a continuous melodic line, particularly apparent in "And sing." Ratjke's voice is a spectacular instrument that generates a wide range of sounds in the manner of the old-style radio sound effects yet without reference to a traditional lyrical framework.
The Audio
As is now the norm with 2L, the digital master was recorded in DXD audio (352.8kHz/24-bit). The Pure Audio Blu-ray disc was then mixed down to a 5.1 DTS-HD Master Audio and 2-channel LPCM (both at 192kHz/24-bit resolution). There are two alternative sound tracks that are now appearing on this label's most recent releases: 9.1 Auro-3D (96kHz/24-bit) and Dolby Atmos (48kHz/24-bit). Both are object-based audio codecs that in the case of the former uses surround, height and overhead ceiling tracks, and, for the latter, multiple location-specific channels that include height as well as front-back, side, and surround. Morten Lindberg's recording team used the Den Norsk Opera & Ballett orchestral rehearsal hall. The now familiar microphone array has the performers surrounding the multiple standard and height units for each piece. My system is not yet Auro-3D or Dolby Atmos capable, but renders the latter as Dolby TrueHD 7.1 (48kHz/24-bit) (the two additional rear channels are actually mounted above the listening position that add an element of height). Comparisons of the 5.1 DTS-HD MA with the Dolby version proved interesting and showed that even at a lower sampling frequency, the latter's immersive effect was quite impressive and often preferable for this type of music.
The Supplements
2L includes a superb hybrid multi-channel SACD and mShuttle downloads in MP3 and the new MQA (Master Quality Authentication) formats. The program booklet has informative essays on both works written by the composer, program tracks, performing and production credits, background pieces on the performers, and recording session photos.
The Final Assessment
This is a recital of music at the cutting edge of contemporary sound and will push the boundaries for those accustomed to more traditional voice and instrumental compositions. That said, the use of space, particularly in the converted Dolby Atmos version is quite effective and will draw the listener in to the proceedings as I am certain that the Auro-3D would do as well. Perhaps not everyone's cup of musical tea, I found the challenges presented by this program well worth its 54-minute running time.
Ratkje: And Sing [Cikada & Oslo Sinfonietta] (TheaterByte Blu-ray Audio Review)
PCM 2.0 Stereo (192kHz/24-bit) | DTS-HD MA 5.1 (192kHz/24-bit) |Dolby Atmos (48kHz/24-bit) } Auro-3D 9.1 (96kHz/24-bit) | DSD (on SACD) | mShuttle (mp3/MQA)
Audio
Summary
A challenging, but rewarding program of new millennium vocal and instrumental music.
What people say... Login to rate
Be the first to leave a review.
Show more