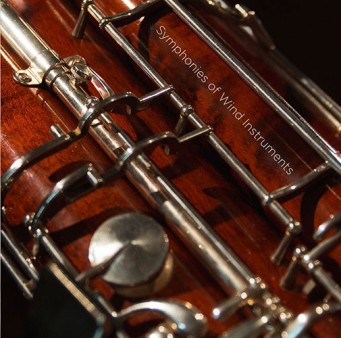 – –

The Album
[Rating:4/5]
Major 20th century composers have occasionally departed from their usual musical genres to apply their talents to music exclusively for wind instruments. In 2L's Symphonies for Wind Instruments, we get no less than Paul Hindemith, Igor Stravinsky, Arnold Schoenberg and, the newest addition, Norwegian Rolf Wallin, whose compositions provide the content for the playlist below:
Konzertmusk (Hindemith)

Konzertante Ouverture (5:16)
Sechs Variatione uber das Lied "Prinz Eugen, der edle Ritter" (6:34)
Marsch (2:27)

Theme and Variations (Schoenberg) (11:50)
Symphony in Bb (Hindemith) (16:49)
Symphony of Wind Instruments (Stravinsky) (9:02)
Changes (Wallin) (10:13)
Stylistically, these pieces differ sharply from each other and highlight different features and tonalities of the various brass and woodwinds that are being played. The Hindemith Concert Music, the oldest piece in this program, belonged to his "Gebrauchsmusik" or "utility music," written so that they could played by nonprofessional musicians. His wind Symphony dates from a quarter of a century later and shows the composer's progression in both tonality and style. The Schoenberg Theme and Variations is a surprisingly tonal piece for this Viennese composer better noted for his 12-tone dissonant scores. Its rather traditional scoring and format was intended for high school ensembles. The brief Stravinsky work has four movements that are all thematically connected and recalls echoes of his earlier ballets. The final selection is "only" 30 years old and takes its inspiration from I Ching, Book of Changes. Wallin shifts between four themes-Yang, The Young Yang, Yin, and The Young Yin-and, while music of today, Changes certainly has echoes of Stravinsky in its style and use of percussion.
This intriguing concert comes by way the Royal Norwegian Navy Band, a thoroughly professional group of 29 musicians that concertizes frequently during the year. Conductor Ingar Bergby, himself a clarinetist, has a long list of accomplishments for a relatively young artist (49 at the time of this recording).
Audio Quality
[Rating:5/5]
This Pure Audio Blu-ray™ originates from a 2L master DXD recording at 352.8 kHz/24-bit, and mixed down to 5.1 DTS-HD Master Audio or 2-channel LPCM (both at 192kHz/24-bit resolution). The former version is more atmospheric and captures the ambience of one of Morten Lindberg's favorite recording venues, the Jar Church. Seating charts for the players are provided in the accompanying booklet along with microphone placement. Overall, we get another sonic marvel from this high-resolution label.
Supplemental Materials
[Rating:4/5]
2L includes a high-resolution hybrid multichannel SACD and, via mShuttle, MP3 and FLAC downloads of this program are available. An extremely thorough program booklet offers biographies of the composers, background information on the pieces, and recording credits.
The Definitive Word
Overall:
[Rating:4.5/5]
As a former woodwind player, I always enjoy hearing the sounds made by lips and breath on various mouthpieces. Further, there is not a single dud in this program although these pieces are not the most important to issue from their composers' pens. Delivered by a highly polished performing group and receiving fabulous sonics, this disc certainly belongs in the library of all lovers of symphonic band music.
[amazon-product region="uk" tracking_id="bluraydefinit-21″]B00IN3PQ6O[/amazon-product]
[amazon-product region="ca" tracking_id="bluraydefinit-20″]B00IN3PQ6O[/amazon-product]
[amazon-product]B00IN3PQ6O[/amazon-product]