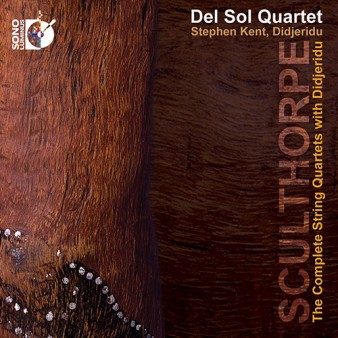 – –

The Album
[Rating:4.5/5]
The late Peter Sculthorpe has been acknowledged as one of Australia's most important and accomplished composers. The Sculthorpe catalog encompasses nearly all musical forms from solo piano through chamber ensemble, opera, choral, orchestral and film scores. Of the eighteen string quartets that he composed, four added the didjeridu, an aboriginal wind instrument with a distinctive sound that is unforgettable. The playlist follows:
Quartet No. 12, "From Ubirr" (12:22) takes its title from a rocky outcropping in the Northern Territory and is actually a reduction of a larger orchestral piece, Earth Cry, based on a book of verse by Tasmanian poet Norma Davis. It reflects the composer's concern with what he perceived as Australians' disrespect for their own land.  The didgeridu makes its presence immediately felt with the addition of is otherworldly harmonics and overtones.
Quartet No. 14, "Quamby" (20:00) has four movements: Prelude, In the Valley, On High Hills, and At Quamby Bluff. The title, translated as "Save Me," is a reference to the large-scale genocide that was said to have occurred when the local inhabitants were tossed to their deaths from the selfsame bluff.
Quartet No. 16 (23:00) was commissioned by Melbourne attorney and human rights advocate, Julian Burnside. The five movements are Loneliness, Anger, Yearning, Trauma, and Freedom and move thematically from hopelessness to ecstasy.
Quartet No. 18  (26:10) was completed when Sculthorpe was 81. It also has five movements: Prelude, A Landing Singing, A Dying Land, A Lost Land, and Postlude. This piece deals with the composer's concerns for climate change and its profound effect on "about the future of our fragile planet." As if to stave off despair, the final movement is a reworking of the traditional hymn "O, God, our help in ages past."
The Del Sol Quartet consists of violinists Kate Stenberg and Rick Shinozaki, violist Charlton Lee, and cellist Kathryn Bates. Based in San Francisco, these artists have performed together for 22 years and have garnered copious accolades including the top Chamber Music America ASCAP Award for Adventurous Programming. Thus, the Sculthorpe quartets would seem to be right up their musical alley. Didjeridu soloist Stephen Kent was trained as a French horn player and took this background to create his own technique for an instrument that would seem to be as far from his native England as one might imagine. Kent has a sizable discography featuring the didjeridu.
Audio Quality
[Rating:4.5/5]
The high-resolution 5.1 and 2.0 channel versions of this Pure Audio Blu-ray™ (recorded in DTS-HD Master Audio 7.1, 192kHz/24-bit) were auditioned during this review (my system lacks 7.1 capability). There is a natural sounding depth and width that gives the listener a very good (if somewhat close) seat in the recording hall. The warmth of the instruments is well reproduced in all versions.
Supplemental Materials
[Rating:4/5]
For listeners who may be unfamiliar with Peter Sculthorpe, the program booklet provides a musical biography interwoven with the descriptions of each quartet. Background on the performers and recording credits are also included. Two Red Book CDs are also included as well as the mShuttle downloads of MP3 and FLAC files.
The Definitive Word
Overall:
[Rating:4.5/5]
Much of this music is introspective and tends toward melancholia, but this is the nature of much of the subject matter of these pieces, stemming from some of the sad history of this "down under" land. That being the case, I would recommend listening in more than one session so as not to miss the inherent beauty in Sculthorpe's musical line and richness of expression. The didjeridu adds a unique voice to the string ensemble and will make quite an impression on listeners coming to this instrument for the first time. Sono Luminus provides a fine valediction to a brilliant and original composer who left us on August 8, 2014.
[amazon-product region="uk" tracking_id="bluraydefinit-21″]B00MUUPJ04[/amazon-product]
[amazon-product region="ca" tracking_id="bluraydefinit-20″]B00MUUPJ04[/amazon-product]
[amazon-product]B00MUUPJ04[/amazon-product]