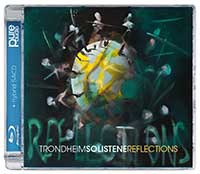 Reflections is a collection of three major 20th century works written by what many classical music lovers and critics would consider  a trio of the last century's greatest composers. Doing this program justice, it is performed by Norway's foremost string ensemble, TrondheimSolistene (Trondheim Soloists). The playlist is as follows:
Benjamin Britten: Variations on a Theme by Frank Bridge (25:15)
Ralph Vaughn Willians: Fantasia on a Theme by Thomas Tallis (14:45)
Igor Stravinsky: Apollon Musagete (28:03)
Benjamin Britten has frequently been named as England's greatest composer since Henry Purcell and his collective oeuvre could easily justify that distinction. Britten's entry into musical composition was by his own account inspired by the music of fellow Englishman Frank Bridge who became his first mentor. The eleven movements of the variations takes their start from a theme in Bridge's Three Idylls for String Quartet and become a very personal reminiscence of Britten's beloved teacher's best characteristics.
Perhaps no English composer of the last century devoted more of his attention to the history of his country's music than Ralph Vaughn Williams. In his Fantasia on a Theme by Thomas Tallis, he is paying homage to a composer regarded as "the father of English cathedral music." Vaughn Williams, in basing his composition on the third of eight tunes from the Metrical Psalter of Matthew Parker, Archbishop of Canterbury, reverted to the Phrygian mode (all white keys on the piano). Using the vehicle of a contemplative work for double string orchestra, the composer takes us back to an earlier era when musical expression was simpler but nonetheless quite moving.
Russian composer Igor Stravinsky received a commission from the Library of Congress to compose a short work of his choosing, an opportunity that enabled him the luxury of revisiting mythological themes, in this case the legend of Apollo and the Muses. Reducing the Muses from nine to three, we have depictions of Calliope who receives stylus and tablet for her poetry, Polyhymnia whose silent voice represents mime, and Terpsichore who incorporates both poetic rhythms and mute gestures to embody the dance.
This is an ambitious program that is well realized by a group of musicians that have adhered to the highest musical standards since their inception nearly thirty years ago. Led by Oyvind Gimse for the past 14 years, as this recital attests, the TrondheimSolistene have successfully branched out into a widely ranging repertory.
The Audio
A DXD audio (352.8kHz/24-bit) with additional channels was then mixed to yield four audio options: a 5.1 DTS-HD Master Audio; 2-channel LPCM (both at 192kHz/24-bit resolution); 9.1 Auro-3D (96kHz/24-bit) and Dolby Atmos (48kHz/24-bit). Recorded by Morten Lindberg's team used at the Selbu Church, performers surrounded the multiple standard and height units for each piece. My listening options were limited to the 5.1 DTS-HD Master Audio, LPCM 2.0, and the Dolby Atmos converted to Dolby TrueHD 7.1 (48kHz/24-bit) versions. That said, I found that the invoking of the extra channels in the Dolby 7.1 option produced the most satisfying and full-bodied listening experience.
The Supplements
Audio bonuses include a hybrid multi-channel SACD and mShuttle downloads in MP3 and MQA formats. The latter shows that 2L is all in for Bob Stuart's new audio format and although I am not able to play such files in native resolution, it is encouraging that at least one record label is looking toward the future. The program booklet provides extensive essays on the pieces and composers, program tracks, performing and production credits, and recording session photos.
The Final Assessment
This is a 20th century classical recital of mainstream works that have established themselves in the performing repertory for quite some time. To hear them performed this well by an ensemble that clearly knows what it is doing, supported by sound recording quality to beat the band is a pleasure that all who will acquire this Pure Audio Blu-ray disc will understand from the very first bars. Highest recommendation.
TrondheimSolistene: Reflections (TheaterByte Blu-ray Audio Review)
$34.99
MSRP
LPCM 2.0 Stereo (192kHz/24-bit) | DTS-HD MA 5.1 (192kHz/24-bit) | Dolby Atmos (48kHz/24-bit) | Auro-3D 9.1 (96kHz/24-bit) | DSD (on SACD) | mShuttle (mp3/MQA)
Audio
Summary
A superb program of 20th century chamber music for strings that receives the usual 2L royal sound treatment
What people say... Login to rate
Be the first to leave a review.
Show more