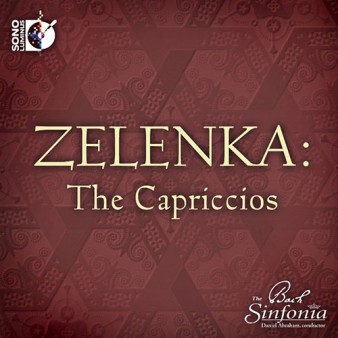 The Album
[Rating:4/5]
Jan Dismas Zelenka was a Bohemian contemporary of his much better known fellow composers, Johann Sebastian Bach, George Frederick Handel, Georg Philipp Telemann, and Jean-Philippe Rameau. The musical style of these five multi-movement orchestral suites, titled Capriccios or caprices, will sound very familiar to listeners who are baroque period enthusiasts, particularly those fond of Bach's four orchestral suites.
The Bach Sinfonia, a Washington D.C. group led by Daniel Abraham, consists of twenty players for this program. Each capriccio assigns a prominent role to the corno da caccio or valveless hunting horn. Duo horn players R.J. Kelley and Alexandra Cook overcome some intermittent intonation issues to provide generally superb playing of very challenging parts. Overall, the pacing of these works is outstanding, although there is a general sameness of sound, considering that all but the final Capriccio in G were composed between 1717 and 1718.  This final piece shows considerable progression in the use of the players and is easily as well written as comparable works by Zelenka's contemporaries.
Audio Quality
[Rating:4.5/5]
Only the 2-channel and 5.1 channel versions were auditioned [this reviewer lacks a 7.1 surround system]. Not surprisingly, the 5.1 channel was more open and atmospheric than what I heard from its 2.0 channel counterpart.  The audio properties of this Blu-ray disc were up to the usual high standards that Sono Luminus has offered in its other releases.
Supplemental Materials
[Rating:4/5]
The program booklet is one of the best that I have seen in the SL series, providing biographical material on the composer and detailed notes on each of the works. In addition, we get background information on the conductor, the ensemble, the two horn players, and concertmaster Linda Quan.  The bonus disc is a fine-sounding red book CD.
The Definitive Word
Overall:
[Rating:4/5]
There has been a Zelenka revival in the past couple of decades and the more of his works that I have been fortunate enough to hear, the more delighted I am that his time has finally arrived.  These five Capriccios definitely merit of our attention and it is commendable that we get to hear them with their original instrumentation. The Bach Sinfonia, its horn soloists, and musical director are more than up to the task of giving us a taste of what the 18th century Viennese audiences must have enjoyed, although we most probably get these pieces with much better musicianship.  Another fine addition to the SL catalog. Let's have some more Zelenka, please!
[amazon-product]B009IF13I6[/amazon-product]
[amazon-product region="ca" tracking_id="bluraydefinit-20″]B009IF13I6[/amazon-product]
[amazon-product region="uk" tracking_id="bluraydefinit-20″]B009IF13I6[/amazon-product]
Overall
[Rating:4/5]
The Album
[Rating:4/5]
Audio Quality
[Rating:4.5/5]
Supplemental Materials
[Rating:4/5]