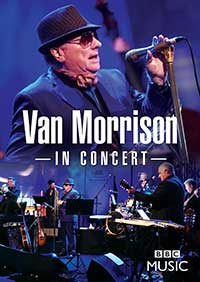 Irish singer Van Morrison has been making music for more than half a century and Van Morrison: In Concert provides ample evidence that he is still very much alive and rocking.  For those interested in rock 'n roll history, Morrison first broke into the big time in 1964 with the group Them and unleashed chart-topping singles "Gloria," "Here Comes The Night," and a foot-stomping cover of Joe Williams's R&B classic "Baby Please Don't Go."  Morrison went out on his own in 1967 with his biggest hit "Brown Eyed Girl." Over the next fifty years, he has released nearly forty albums, more than seventy singles, and continues to make annual visits to the recording studio.
Recorded September 29, 2016 at the BBC Radio Theater, the 18-track Van Morrison: In Concert is a nifty 70-minute mix of oldies and newbies. A terrific band, consisting of Hammond B3 organ and flugelhorn (Paul Moran), drums (Mex Clough), bass(Paul Moore), lead guitar(Dave Keary),and a background singer (Dana Masters), accompanies "The Man" himself who tosses in the occasional saxophone and harmonica solos.
The tracks for Van Morrison: In Concert are listed below:
Too Late
Magic Time
Wild Night
Medley: Baby Please Don't Go/ Don't Start Crying Now
Here Comes The Night
Every Time I See A River
Cleaning Windows/ Be-Bop A Lula
Let It Rhyme
Whenever God Shines His Light
Sometimes We Cry
Going Down To Bangor
The Pen is Mightier Than The Sword
Keep Me Singing
Enlightenment
Carrying A Torch
Brown Eyed Girl
Jackie Wilson Said
In The Garden
This artist has always resisted categorization and the current program is a perfect example of his shifting styles and widely varying musical selections that range from R&B (Baby Please Don't Go), rock (Wild Night), gospel (Whenever God Shines His Light), soulful ballad (Carrying a Torch), to straight-ahead rocker (Here Comes The Night).  Van Morrison does not disappoint his faithful fans with a jazzy even more upbeat version of "Brown Eyed Girl."
If this were not enough, there is a "bonus" 60-minute concert "Up On Cyprus Avenue," homage to Belfast's iconic street and recorded with most of the same backup group on his 70thbirthday in 2015. The twelve tracks (only three reprises from the BBC Concert) are listed below:
Cyprus Avenue
Celtic Swing
Cleaning Windows/Be-Bop A Lula
Days Like This
Precious Time
Sometimes I Feel Like A Motherless Child
Baby Please Don't Go/Parchman Farm
It's All In The Game
Burning Ground
Whenever God Shines His Light
And The Healing Has Begun
On Hyndford Street.
The truly amazing thing about both of these programs is how well Van Morrison's voice has held up after decades of performing in the studio and on tour.  Although he now sports a pork pie hat, Ascot tie and shades, there is no mistaking the husky soulful voice that has garnered Morrison his many awards and accolades over a career that has lasted as long as that of the Rolling Stones.  The audiences in both shows may be mostly older true believers but this is a video that should appeal to music lovers of all ages.  If more than two hours of vintage Van is not enough, you can always put this one on repeat-play cycles which is more than I can say about much of the recorded pabulum that passes for today's pop music. Highly recommended.
Van Morrison: In Concert will be available for sale in DVD and Blu-ray versions beginning on February 16, 2018.
[amazon_auto_links id="109875"]
Eagle Rock
Studios & Distributors
Janet Fraser Cook | Phil Jennings
Director
Summary
Ageless Irish rocker Van Morrison can still bring it as attested by these two recent concert recordings made at the beginning of his eighth decade of life at the at the BBC Radio Theater.
What people say... Login to rate
Be the first to leave a review.
Show more