Online retailer Amazon has begun taking pre-orders on four newly added editions of Snow White and the Seven Dwarfs on Blu-ray Disc in addition to the previously announced Blu-ray+DVD two-disc Platinum Edition combo pack.
Disney will now be releasing a Snow White and the Seven Dwarfs Platinum Edition DVD+Blu-ray combo pack in DVD packaging, at the same SRP of $39.99 ($27.99 at Amazon) as the Blu-ray + DVD edition in the Blu-ray packaging in an effort to market Blu-ray stealthily to the DVD crowd. Additionally, there will be three, more expensive versions available as well.
First, there is the Snow White Collector Edition Book Set, which comes packaged with a book, at an SRP of $59.99 ($41.99 on Amazon). Next there is the  Snow White and the Seven Dwarfs Seven Dwarf Plush Gift Set that comes with a plushy toy of each of the dwarfs for an SRP of $79.99 ($55.99 on Amazon).
Lastly, there is the Snow White and the Seven Dwarfs Limited Edition Collector Set, which comes packaged with a book, production stills, and lapel pins of each the seven dwarfs all housed in a deluxe red box at a whopping $249.99 SRP ($174.49 on Amazon):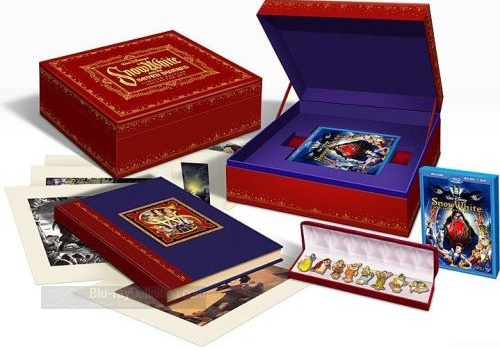 Purchase Snow White and the Seven Dwarfs Platinum Edition DVD+Blu-ray (DVD Packaging) on Amazon.com
Purchase Snow White Collector Edition Book Set Blu-ray+DVD on Amazon.com
Purchase Snow White and the Seven Dwarfs Seven Dwarf Plush Gift Set Blu-ray+DVD on Amazon.com
Purchase Snow White and the Seven Dwarfs Limited Edition Collector Set Blu-ray+DVD on Amazon.com