Kim Ji-Woon's Korean western martial arts comedy The Good, The Bad, The Weird is set to debut on Blu-ray day-and-date with the DVD release from IFC Films and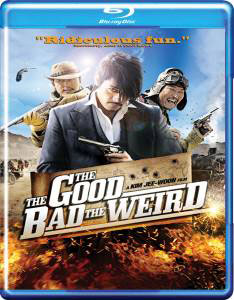 MPI Media Group on August 17, 2010 at a suggested retail price of $29.98 (Blu-ray) and $24.98 for the DVD.
More information:
FROM GENRE MASTER KIM JI-WOON COMES THE WILD KOREAN WESTERN/MARTIAL ARTS ACTION COMEDY THAT TAKES NO PRISONERS
Imagine an action adventure about Chinese bandits directed in the superheated spaghetti Western style of Sergio Leone and you have, The Good, The Bad, The Weird
, a breathtakingly exciting spectacle from South Korea.
Director Kim Ji-woon, a master of modern horror thanks to A Tale of Two Sisters and 3 Extremes II, turns to pure, high-octane thrills in this wild take on Leone's Clint Eastwood classic The Good, The Bad and the Ugly. One of the most expensive films ever made in South Korea, critics worldwide have been blown away by this outlandishly thrilling spectacle. A treat for fans of everything from action Westerns to Korean cinema to Tarantino-style bravado, it comes to Blu-ray and DVD from IFC Films and MPI Media Group on August 17, 2010.