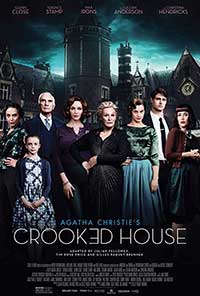 2017 seems to have become an Agatha Christie year starting with the reboot of Murder on the Orient Express, and followed in short order by Julian Fellowes's film adaptation of her 1949 novel, Crooked House. Taking its title from the nursery rhyme, "there was a crooked man," in this case, the late Aristide Leonides (Gino Picciano), a self-made Greek millionaire, whose suspicious business dealings contributed to his vast fortune. His first wife was an English aristocrat who married against her family's wishes and after her death, her elderly sister Edith de Havilland (Glenn Close) still resides in the family mansion, the three-gabled, poorly proportioned "crooked house."
Young private investigator Charles Hayward (Max Irons) enters the picture after a brief romantic fling in Cairo with Sophia de Havilland (Stefanie Martini), Leonides's granddaughter. He gets an insider request from Sophia to investigate her grandfather's death while Scotland Yard Chief Inspector Taverner (Terence Stamp), an old friend of Charles's father, encourages him to solve this high-profile murder as soon as possible. Hayward makes an extended visit to the Leonides estate where he encounters the usual suspects in residence: lackluster sons Philip (Julian Sands) and Roger (Christian McKay), their wives, exotic Magda (Gillian Anderson) and plain-jane Clemency (Amanda Abbington), the grandchildren Sophia, Eustace (Preston Nyman), and Josephine (Honor Kneafsey), the new Mrs. Leonides and former Las Vegas danseuse Brenda (Christina Hendricks), tutor Laurence Brown (John Heffernan), and Nanny (Jenny Galloway).
While not the claustrophobic environment of a railroad car or a dark mansion with a dwindling group of guests, there is enough going on in this huge estate to make for a psychologically strained environment. As is the case in most Agatha Christie thrillers, this dysfunctional family hopes to benefit from the death of its paterfamilias who may have been deliberately or accidentally killed by a wrongful substitution of physostigmine, a glaucoma medication, for insulin. The blood relatives of this embattled clan want Hayward to establish the guilt of gold-digger Brenda (who administered his medications) so that they can share in the fortune. But, wouldn't you know it, there is the problem of an unsigned final will and testament.  Inspector Tavener threatens to take Hayward off the case up as the PI has made little progress despite compiling copious notes. In true Agatha Christie fashion, things are never what they seem and the most likely suspects often become the least likely perpetrators of the crime in question.
Director Gilles Paquet-Brenner receives some luxury casting for Crooked House headlined by veteran Glenn Close's haughty portrayal of the family's doyenne, Gillian Anderson as the eccentric Cleopatra-wigged actress, grizzled Terrance Stamp in a stiff upper lip cameo role, and Julian Sands as an effete script writer. Young Honor Kneafsey gets a few scene-stealer moments with Irons but her role is burdened with excessive preciosity. Unfortunately, Paquet-Brenner makes his players wander, often at random, and at a torpid pace through a truly magnificent period setting, an approach that diminishes whatever tension might be on tap. In fact, it is the elegant visuals provided by the camera crew that are the best part of this picture. Perhaps the most suspenseful moment in the film occurs when Detective Hayward gets trapped in a tree house by a couple of dangerous looking Dobermans.
Unlike the masterful and dark-humored Hercule Poirot films, Crooked House gets no such clever comic relief from a hero-detective who is ineffectual and does not put the important clues together much ahead of the surprise ending. A British whodunit that is mostly for Christie completists who might have wondered why it took seventy years to bring this one to the big screen; a better script and direction could have made this long wait much more worthwhile.
Crooked House is available for viewing on demand from November 21, 2017 and arrives in theaters December 22, 2017
[amazon_auto_links id="107480"]
Brilliant Films | Fred Films | Sony Pictures Worldwide Acquisitions
Studios & Distributors
PG-13 (Some thematic elements and sexual content)
Rating Certificate
Gilles Paquet-Brenner
Director
21 Nov. 2017 (VOD) | 22 Dec. 2017 (Theatrical)
Release Date
Summary
A spy-turned-private detective must root out his grandfather's killer before the family's skeletons spill out the closet in this Agatha Christie mystery-thriller blessed with an excellent cast but let down by a lackluster script and bland direction.
What people say... Login to rate
Be the first to leave a review.
Show more