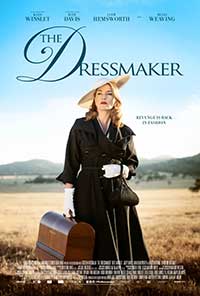 It is the 1950s and Myrtle "Tilly" Dunnage (Kate Winslet) returns unexpectedly to her small hometown of Dungatar, Australia after a very long absence. She finds that her mother "Mad" Molly (Judy Davis) has become a somewhat demented and irascible problem drinker who lives in absolute squalor. As Tilly gets the house and her mother cleaned up, we get her dark backstory. Twenty-five years earlier, Tilly was implicated in the death of young Stewart Pettyman (Rory Potter) who broke his neck under mysterious circumstances. Stewart was a notorious bully who repeatedly terrorized other Dungatar children and had just threatened Tilly and Molly with physical violence. In spite of very limited evidence, the townsfolk still blame Tilly for Stewart's death.
Teddy McSwiney (Liam Hemsworth), a handsome young  footballer, takes a distinct fancy to the older Tilly who, seductively dressed to the nines, watches him score the winning points against an arch-rival team.  We are introduced to some of the off-kilter townsfolk: cross-dressing police Sergeant Farrat (Hugo Weaving), Stewart's parents, the domineering Evan (Shane Bourne) and obssessive-compulsive Marigold (Alison Whyte) Pettyman, the abusive old pharmacist Mr. Almanac (Barry Otto), the pretentious Beaumonts, Elsbeth (Caroline Goodall) and her mama's boy son William (James Mackay), and Teddy's mentally challenged crippled brother Barney (Gyton Grantley). Tilly gives her plain-Jane childhood friend Gertrude Pratt (Sarah Snook) a fabulous makeover, and sparks begin to fly between Gertrude AKA "Trudy" and William during a town dance.
Tilly shares some of her history with Teddy, starting with her being sent off to boarding school after Stewart's death and ending with her working as a dressmaker for a haute couture fashion house in Paris. Pretty soon Tilly's stunning gowns start showing up on most of the women of Dungatar. As a counter move, the vengeful Pettymans bring in a fashion-design competitor for Tilly in the person of snooty dressmaker Una Pleasance (Sacha Horler) who soon engages in a very "close" relationship with Mr. Pettyman.
Tilly bribes Sergeant Farrat to give her access to the official (and ultimately false) police account of little Stewart's death as rendered by schoolteacher Beulah Harridiene (Kerry Fox).  After William and Gertrude get married, many more secrets about Dungatar's "good" citizens emerge, as does the truth about Tilly's life-changing incident. It looks like things will finally work out for her and boyfriend Teddy, and Tilly's "curse" will finally be lifted. But The Dressmaker's revenge-driven plot has more twists and turns than a lonely Outback road and arrives at an apocalyptic finale in which wholesale justice is meted out to the Dungatar community.
Writer/director Jocelyn Moorhouse and her husband P.J. Hogan have skillfully adapted a first novel by Rosalie Ham, inspired by her own small town life experiences. The Dressmaker blends moments of chuckle-inducing dark comedy with episodes of edge-of-the-seat drama. Kate Winslett and Judy Davis lead a troupe of gifted character actors in a simply marvelous little film. The Dressmaker was Australia's second highest-grossing film in 2015 (after Mad Max: Fury Road) and received five AACTA (Australian Academy of Cinema and Television Arts) awards, including Best Actress and Supporting Actress and Actor. Filmed in several small Australian towns, veteran cinematographer Donald McAlpine delivers evocative images of the vast, empty spaces of the Outback that is well complemented by David Hirschfelder's atmospheric score. The Dressmaker had a limited 2016 run in US theaters and is now available on Blu-ray Disc and Amazon Prime Video.
[amazon_auto_links id="98208"]
Screen Australia | Ingenious Senior Film Fund | Film Art Media | Embankment Films | Broadgreen Pictures
Studios & Distributors
R (violence and brief language)
Rating Certificate
Jocelyn Moorhouse
Director
P.J. Hogan | Jocelyn Moorhouse
Writer
16 Dec. 2016 (US Theatrical) | 3 Mar. 2017 (VOD)
Release Date
Summary
A brilliant Aussie comedy-drama that exposes the vicious secrets of a small town when a successful dressmaker returns to her home.
What people say... Login to rate
Be the first to leave a review.
Show more