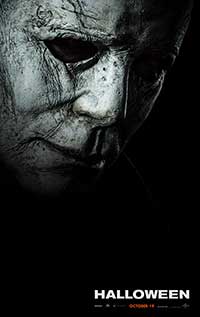 Now that Halloween (2018) has settled in for a week it's safe to say that I did enjoy parts of it while not really enjoying other parts of it. It's not a technically flawed film, it's quite grand for a ten-million-dollar production, and one of the bigger Blumhouse Productions. It's just not a very consistent film overall.
Halloween starts off forty years later to the present where a couple of podcasters visit the prison/mental facility that Michael Myers (James Jude Courtney & Nick Castle) is imprisoned. They're fascinated by the sparse killings that happened way back in 1978, with there being only one survivor — Laurie Strode (Jaime Lee Curtis). They want some insight and of course Michael is a mute and does not talk. This sets up a chain of events that has Michael escaping the facility and he heads back over to his old stomping grounds of Haddonfield.
As I mentioned before, forty years have passed, and for better or worse, Laurie Strode has been busy dealing with PTSD, keeping fit, and fortifying her home with lights, cameras, and weapons. She started a family along the way and had a daughter, Karen (Judy Greer), who also had daughter, Allison (Andi Matichak). Laurie's past trauma has put a burden on the family and it's a splintered dysfunctional one since Laurie is seen as a paranoid basket case.
This bodes well for Michael since he doesn't care and seems to kill without reason. In fact, his internal GPS location device is so spot on that he somehow manages to make it back to Haddonfield. No, he's not necessarily looking for Laurie, but there are many fresh victims for him to butcher up. I'm being a bit cheeky with that last paragraph mainly due to some plot points that did not make sense to me.
Michael as a character and mascot for the series continues to be awesome. He's an unstoppable killing machine, but he's embellished with supernatural abilities, mainly, he can't seem to be stopped with bullets or being runover. Did I mention Michael is also in his 60's? I think what drags the film down a few notches is that they decided to make this new version be the true sequel to the original. The filmmakers have not acknowledged any of the other Halloween films outside of the first one, which is a little ironic, since they did feel compelled to pay homage to every single film from years past. Some shots in the film are actually directly lifted from the first one. Wait, what? It's like they wanted their cake and eat it, too. I don't know, I guess when you say that everything after the first one is being erased but want to include "homages," it becomes too self-serving.
Now my rating is in the middle because I appreciated John Carpenter and Jaime Lee Curtis coming back to the fold. John Carpenter and his son, Cody Carpenter, and godson, Daniel Davies, all composed the score and it was awesome. Carpenter also served as executive producer, as well, as did Jaime Lee Curtis. The film was co-written and directed by David Gordon Green whose breakthrough film was the excellent Joe. He directs this new version of Halloween with an assured hand even when the script breaks down in parts.
I'm actually a fan of the first two films because they both play as one giant epic. I even like H20, because that fit and completed the trilogy – it was congruent. This new film leaves a forty-year gap of unanswered questions that we have to seemingly answer (or make up as we go along) ourselves since there's no exposition about what has happened in forty years. That seems a bit lazy. There are small bursts of comedy sprinkled in throughout the film but the kills are quite graphic and brutal in some instances. As it stands, I will give Halloween (2018) a mild recommendation. It's no masterpiece by any stretch of the imagination. It does entertain, but I would suggest trying to go in there and not think about all the films from the past. As for me, I think I'm going to re-watch the original film and Halloween II on October 31. I may throw in H20 just to complete the trifecta.
Halloween (2018) is in theaters October 19, 2018 (USA)
Blumhouse Productions | Miramax | Rough House Pictures | Trancas International Films | Universal Pictures
Studios & Distributors
R (for horror violence and bloody images, language, brief drug use and nudity)
Rating Certificate
David Gordon Green
Director
David Gordon Green | Danny McBride | Jeff Fradley
Writer
Summary
Four decades after the harrowing Halloween night she was first attacked by Michael Myers, a now gun toting Laurie Strode (Jamie Lee Curtis) readies herself for a final confrontation with the masked tormentor. Halloween (2018) is a meat and potatoes film -- nothing presented is revolutionary, but one scene towards the end may play off as groan-inducing. Take it as you will. If you want to see Jaime Lee Curtis kick some butt then this new film will satisfy. If you want to see some nice kills from The Shape then you will also be entertained in that respect. Halloween is mildly recommended.
What people say... Login to rate
Be the first to leave a review.
Show more