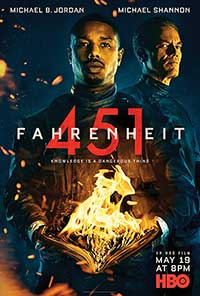 When Ray Bradbury's bleak account of a dystopian society, Fahrenheit 451, was published sixty-five years ago, it raised disturbing questions about how far a government might go to stifle freedom of thought. For those unfamiliar with this work, the title refers to the temperature at which the paper in books catches fire and burns.
In a futuristic high-tech era, "fireman" Guy Montag (Michael B. Jordan) gets  his daily revisionist history via "Yuxie" (voiced by Cindy Katz), an Alexa-like information system. Montag is the "adopted" son of Captain John Beatty (Michael Shannon) whose firemen do not extinguish fires but carry flamethrowers, as their daily mission is to burn banned books. According to "The Ministry" or governing body, the only books still permitted to be read are the Bible, Moby Dick, and To The Lighthouse. Beatty is a conflicted soul who remembers books and occasionally writes down some of their "words to live by." Society is now divided into "Eels" who read and store forbidden books while everyone else is a "Native." When an "Eel" is apprehended by the firemen his or her identity gets erased for a lengthy period.
Clarisse McClellan (Sofia Boutella) is an "Eel" informant who is trying to get her sentence for book dealing reduced by ratting out her book-reading acquaintances. Beatty, Montag, and company stumble onto a mother lode of books stored in a house belonging to " John Steinbeck," an old woman (Lynne Griffin) who has memorized The Grapes of Wrath. "Steinbeck" then shockingly immolates herself on a pyre of burning volumes, chanting "Omnis." Later, Beatty explains to his fire brigade that "Omnis" is a seditious plot to alter human DNA.
A disillusioned Montag has secretly taken Dostoevsky's "Notes from the Underground" from "Steinbeck's" stash and shares this book with Clarisse in her apartment. They have "a moment," and later depart for a secret compound of other Eels who have memorized numerous famous books and take on the names with the original authors. Montag is charged to ensure that a bird with its "Omnis"-modified DNA will be set free to reach Canada where its genetic material can be transferred to thousands of animals around the world.
This new Fahrenheit 451 not only differs considerably from the novel but also from the original screen adaptation, as 21st century gizmos and genetic engineering overwhelm any notion of a coherent plot. The central message that Ray Bradbury's book tried to convey about totalitarianism and its human consequences gets short shrift in this inept quasi-remake of writer/director François Truffaut's 1966 film. Perhaps Amir Naderi's lackluster script should have suffered the same fate as the many books that were torched during its filming. Michael B. Jordan's Montag gets an unconvincing and superficial backstory while Michael Shannon is given a role that is more caricature than character. The most credible part goes to Sofia Boutella who, at least, makes an effort to look interested in what little is going on. The gratuitous device of engineered DNA makes little or no sense and when the caged bird soared into the heavens, I felt a blissful sense of relief that Fahrenheit 451 was finally over.
Fahrenheit 451 is currently in rotation on HBO's various channels and available for streaming on HBO Now and HBO Go
HBO Films
Studios & Distributors
TV-14 (for violence and language)
Rating Certificate
Summary
In a dystopian future where America has become a dystopian state, a fireman (Michael B.Jordan) whose job it is, is to burn all books, begins to question his actions after meeting a mysterious woman, and he soon finds himself quietly rebelling against the laws of society. HBO has given us a rather lame makeover of Ray Bradbury's dystopian sci-fi classic that adds modern elements that fail to make much of a dramatic impact and only confuse an already befuddled storyline.
What people say... Login to rate
Be the first to leave a review.
Show more