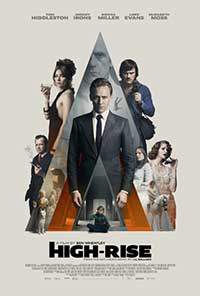 High-Rise stars Tom Hiddleston as Dr. Robert Laing Dr. Laing is a physiologist, who lives on an upper level floor of a skyscraper apartment complex. The film opens with scenes of chaos and leftover destruction before we are transported to three months prior. In those scenes we have Dr. Laing tending to business at his clinic in London. After the death of his sister he seeks to reevaluate things and moves into a gigantic tower block outside of the city.
There, he meets the architect of the massive block and its direct surroundings –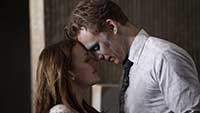 Anthony Royal (Jeremy Irons). Royal seems like he's on the level – he's immersed in his plans and hopes to realize even more projects. Laing does a little exploring throughout the building and runs into a bevy of colorful characters. These characters are from all works of life – rich, filthy rich, working class, poor, etc. Laing fits in somewhere in the middle to upper part of that totem pole.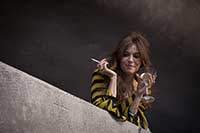 Some of the rules at this building dictate that your position and station in life (net-worth, as well) grant you privileges that the folks living in the lower units do not. Electricity, the use of the amenities, etc., are off-limits when the rich decide they want to throw a party or if they want to fancy a swim in the Olympic sized swimming pool. Things escalate and disgruntled tenants begin to assault one another, kill the neighbor's pets, and trash the place, while Royal likens the ongoing events as growing pains or "teething."
Laing also seems to spend his time being the casual observer, therefore making us, the audience, a casual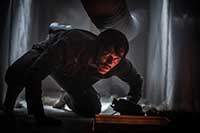 observer, because we are anchored to him at all times, mostly. There are wondrous sights to behold at the tower and what's really cool, and not having read the novel by J.G. Ballard, is that the film supposedly takes place in 1970s but the  tower blocks and environment have an almost Judge Dredd "mega-city tower block" sheen to them. It's really cool in terms of production design. As far as Laing and his plight, well, things seem to escalate all around him. Society within the giant tower crumbles and it turns into a Lord of the Flies quest for survival, with nihilism and hedonistic tendencies thrown into the soup. Laing retreats further into his surrounding almost like a demented Col. Kurtz minus the fright or stature. Laing prefers to paint his walls – literally while spouting off incoherencies.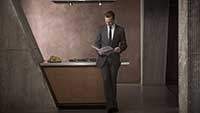 It's in the later build-up of insanity that threw me for a loop. It seemed to happen overnight as opposed to a gradually. Remember, the film opens up three months after the initial move-in to the chaos. The film runs less than two hours, with credits, so maybe a few more minutes of more footage could have kept things a bit more balanced. I mentioned before that I have not read the novel the film is based on, but I have watched the film version Crash, which David Cronenberg directed. Maybe I will grow to like High-Rise on subsequent viewings just like Crash?
I should also point out that High-Rise was directed by Ben Wheatley who wrote and directed the excellent film The Kill List and A Field in England. He definitely has a 'slow burn' style of filmmaking and I wish I had liked the film a bit more than I did. There are some terrific and nuanced performances throughout, but the material seems a like it was difficult to adapt. In any event – High-Rise is available via various Streaming and VOD platforms including Amazon PRIME and VUDU. High-Rise will get a limited U.S. theatrical beginning May 13, 2016.
High-Rise (TheaterByte Movie Review)
Magnet Films
Studios & Distributors
Rated R (for violence, disturbing images, strong sexual content/graphic nudity, language and some drug use)
Rating Certificate
April 28, 2016 (internet), May 13, 2016 (limited)
Release Date
Summary
I have a feeling High-Rise will be an acquired taste for most. As is, the film is definitely style over substance but I don't doubt that the substance is hidden in plain sight for some. I am quite conflicted in terms of an overall score but will say that the cast and production design make it at least a bit interesting to look at as a whole.
What people say... Login to rate
Be the first to leave a review.
Show more