The brothers live with their aunt in Bangkok, but she clearly doesn't want them there. She barely has enough food to feed herself and her young daughter, much less teenager Ek (Thira Chutikul) and the young and impressionable Oat (Ingkarat Damrongsakkul). Oat looks up to Ek, who happens to be gay and who has a long term boyfriend named Jai (Arthur Navarat). But Ek and Jai have an important event coming up in their lives,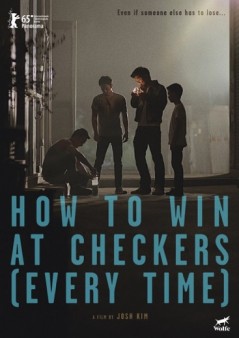 they are of age to take place in Thailand's army lottery – and it's a mandatory lottery. For if they are chosen they need to serve a mandatory two year military service. But it's Jai's parents who are able to get their son out of serving in the army – they pay off a local politician in order to do so. Ek doesn't have that option, and he's worried that if he does get drafted, he doesn't want to leave Oat with their mean and always complaining aunt (Vatanya Thamdee). He also doesn't want to leave Jai and his best friend – trans woman Kitty (Natarat Lakha). But Ek's luck goes from bad to worse after Oat steals some goods from a local young thug, and it's Ek who has to pay the price.
How to win at Checkers (Every Time) is a tale set around Thailand's culture of poverty and corruption, and the people who are affected by these issue. Based on the stories from the bestselling book "Sightseeing" by Rattawut Lapcharoensap, it's American born director Josh Kim who makes an amazing directorial debut in a film that's from a culture not his own. And his cast are first rate, especially Damrongsakkul as the young boy who's has to grow up very fast and is in danger of losing his brother to the government. And the title refers to a book that Oat buys called How to win at Checkers (Every Time) because Ek is always promising to take Oat out with him and his friends if he beats him at checkers. How to win at Checkers (Every Time) is definitely worth a rental.
WINNER – AUDIENCE AWARDS
Best Feature, Altanta Out On Film
Best Int'l Feature, Film Out San Diego
LA Asian American Pacific Film Festival
Tel Aviv International LGBT Film Festival
How to Win at Checkers (Every Time) debuts Feb 2, 2016 across all digital platforms including iTunes, Vimeo On Demand, and WolfeOnDemand.com, and will also be available same date on DVD via Wolfe Video and many major retailers.
How to Win at Checkers (TheaterByte Movie Review)
Wolfe Video
Studios & Distributors
Thailand / USA / Hong Kong / Indonesia
Country
Thai w/ English Subs.
Language
26 April 2015 (USA)
Release Date
Summary
A heartwarming foreign film about the relationship between two brothers that will tug at your heartstrings
What people say... Login to rate
Be the first to leave a review.
Show more