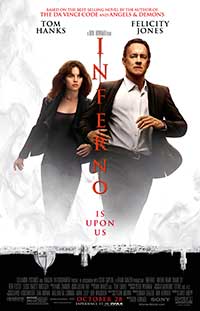 The third installment in Dan Brown's Robert Langdon film franchise, Inferno takes off with a literal bang as Langdon (Tom Hanks, Sully) has apparently been shot in the head. The Harvard symbology professor awakens in a Florentine hospital room, groggy and suffering from amnesia while Dr. Sienna Brooks (Felicity Jones, The Theory of Everything) provides his care. Robert is getting blurry flashbacks of real or imagined events only to have his life again threatened by Carabinieri officer Vayentha (Ana Ularu, Outbound). Dr. Brooks hastily hustles him into a taxi and on to her apartment.
Just prior to Langdon's close brush with death, Inferno showed us a man, later identified as  billionaire scientist Bertrand Zobrist, leaping to his death from a bell tower in Florence.  Zobrist (Ben Foster, The Finest Hours) chose suicide to avoid revealing the location of the deadly "Inferno" virus, developed in his laboratory. Not only was the name of the virus inspired by the writings of Zobrist's hero, Dante Alighieri, but clues to its whereabouts are hidden in Dante-related writings, paintings, and artifacts.  We soon find out through a video that the late billionaire's ultimate goal was to use the Inferno virus to reduce the planet's growing population problem and save mankind from extinction.
As was the case in this series' previous storylines,  the clue-to-clue journey is the key to this fast-moving thriller, as Langdon (whose memory is beginning to return) and young Dr. Brooks race against time to avert a pandemic. Also in hot pursuit of the Inferno virus are World Health Organization agents Christoph Bouchard (Omar Sy, The Intouchables) and Elizabeth Sinskey (Sidse Babett Knudsen, Westworld).  Harry Sims (Irrfan Khan, Jurassic World) is a "fixer" and CEO of a very discrete international security firm, "The Consortium," that worked for Zobrist and his company. When Sims receives the doomsday video from his former employer that described the imminent worldwide release of Inferno, he decides his best strategy is to join forces with Sinskey's WHO team.
Twists and turns abound in David Koepp's (Angels and Demons) screenplay and take viewers on a rapid ride through the historic sites of Florence, Venice, and Istanbul with stunning location shots by Salvatore Totino's (Everest) camera team. Hans Zimmer (Gladiator) turns in an exciting score that nicely complements the visuals. Director Ron Howard's prior experience with Dan Brown's books is a definite asset to his cinematic realization of this bestseller but this film also has noteworthy shortcomings. While the threat of a worldwide pandemic is quite au courant in the early 21st century, Inferno's basic premise is not nearly as novel as those in the two preceding Langdon films. The frequent use of Langdon's memory "flashbacks" and terrifying visions takes precious time away from some essential plot and character development, for example, Langdon's previous romantic involvement with Elizabeth Sinskey. Unlike the earlier Dan Brown/Ron Howard collaborations, The Da Vinci Code and Angels and Demons, the solving of the film's "puzzle," the crucial element in Brown novels, gets relatively short shrift in both the quantity and relative quality of the clues. Inferno's international release occurred two weeks ahead of its American screen première and some critics have already savaged the newest chapter in the Langdon trilogy. While I would concede that Inferno is the weakest of the three films, it is, until its slam-bang conclusion, reasonably faithful to the novel. Carrying a nonstop action torch for two hours, and, bolstered by a potent Dolby Atmos soundtrack, Inferno gives movie theater audiences enough thrills and spills to more than satisfy their vicarious needs.
Inferno (TheaterByte Movie Review)
Imagine Entertainment | Columbia Pictures | Sony Pictures
Studios & Distributors
PG-13 (action, violence, language, brief sensuality)
Rating Certificate
English | French | Italian
Language
Summary
The third installment in the Dan Brown/Professor Langdon film series is chock-full of action, but falls short on its inventiveness and character development.
What people say... Login to rate
Be the first to leave a review.
Show more