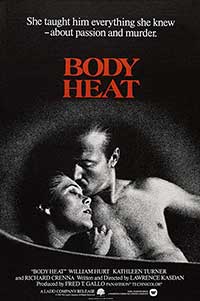 Body Heat revolves around a man, Νed (William Hurt), and a married woman, Mattie (Kathleen Turner), who appear to share a fatal attraction with each other. The situation becomes much more unnerving when they decide to murder Mattie's husband and flee with his fortune.
Plot
In terms of plot, I have to admit I do not find the film very satisfying. Although towards the end the movie proves to have a sophisticated and unpredictable script,I still find the early scenes very problematic. In specific, their chemistry at start feels much forced and many of the movie events are not at all convincing. The establishment of Matty's character as a sexy femme fatale at the beginning looks odd and it feels like something is missing. Also, I found it weird and almost funny the exaggeration of a scene that includes the breaking of window after a seeming refusal by Matty to reciprocate Ned's advances. I have to mention too that the way in which Ned is convinced to proceed with the murder was not given the peoper emphasis, on the contrary it was an important aspect which was neglected, which made me feel disappointed as it appeared too unrealistic and out of context.
Characters
Ned works as a lawyer;  he appears to be taken by Matty's sex appeal and quickly becomes involved in a heated sexual relationship with her. Then together with Matty, they realize that maybe it would be better for them if they just killed her husband, and inherit the money that he will bequeath to her. He also gives the impression of being a professional, not only in his career, but in his way of covering their footprints as well. Despite the advice of his friends and colleagues to stay away from her and the warnings he is given about the quality of her character, he persists in that relationship and continues to feign innocence.
Matty is Body Heat's femme fatale, who from start appears as a sexy, smart woman who enjoys flirting with guys even though she is married, taking advantage of the fact her husband is often absent due to his work. She makes Ned feel that he is special to her and makes it plain to him that she is not in love with her husband anymore; she finally confesses to Ned that sometimes she is excited by the idea of her husband's death, which is something that makes her feel remorse. She gives the impression of a troubled personality with a complex past.
Edmund (Richard Crenna) is Matty's husband, who cares a lot for his wife. He is worried that she will cheat on him, which is something that causes him much distress, as he seems to cares for her deeply. Later we learn that he helped her abstain from her past drug addiction.
Mary (Kim Zimmer) is the mysterious friend of Matty who looks a lot like her. They are like sisters and support each other in difficult times and she agrees to help Matty cover herself as far as Edmund's will is concerned.
Acting
William Hurt was great as Ned Racine, a lawyer who gets enchanted by Matty and decides to exceed the moral limits in order to live happily together with her.
Kathleen Turner was also exceptional as Matty Walker, as she managed to convey successfully a combination of the mysterious beauty of a succubus and the efforts of an ambitious woman to escape by all means her shameful past.
Richard Crenna was very good as well, playing the rich but loyal husband who does everything in his power to satisfy his wife.
Kim Zimmer does not appear many minutes in the movie, still she is haunting to the viewer (and Matty as well) either when she plays or when she is absent.
Direction/Cinematography
Direction in the film was taut, with careful attention to sound, with the use of chimes and wind effects, which create suspense and an ominous atmosphere. And that would be mostly thanks to the sound editors, Patrick Drummond and Robert Grieve and the re-recording mixer Jim Cook.  Cinematography, courtesy of DOP Richard H. Kline, is centered around on warm color tones like red and purple or cold ones like blue and gray. It is not to be overlooked that phenomena related to weather conditions and natural elements play a substantial role. Heat waves (as the title suggests), wind (sound direction), fire (in the beginning and towards the end) have a dominant role throughout the film. Music was amazing as well.
End
The film's ending is very surprising, which means that the viewers who happen to be lovers of plot twists will be satisfied with the left turn this neo-noir crime/drama from writer/director Lawrence Kasdan throws them.
Body Heat was originally released in theaters 28 August 1981 (USA)
---
The Ladd Company | Warner Bros.
Studios & Distributors
Lawrence Kasdan
Director(s)
28 Aug. 1981
Original Release Date
Summary
In the thick Florida heat, femme fatale Matty Walker (Kathleen Turner) convinces her lover, small-time lawyer Ned Racine (William Hurt) to help her murder her wealthy husband Edmund (Richard Crenna) so the two can make off with his fortune in this sweltering, lushly filmed neo-noir crime/drama/romance from writer/director Lawrence Kasdan.
What people say... Login to rate
Be the first to leave a review.
Show more