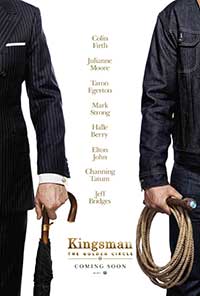 The first Kingsman film introduced us to the loveable Taron Egerton as the new recruit, Gary "Eggsy" Unwin, Mark Strong as device expert Merlin and Colin Firth as veteran agent Harry Hart AKA Galahad who was shot by the villain Valentine and left for dead at the end of the film. Kingsman: The Golden CIrcle starts with Eggsy being nearly done in by operation reject Charlie (Edward Holcroft) who sports a computerized right arm and a new set of vocal cords. Eggsy's love life has taken a definite uptick when Princess Tilde (Hanna Alstrom) invites him to dine with her parents, the King (Bjorn Granath) and Queen (Lena Endre) of Sweden, who owed him a debt of gratitude for saving their daughter's life. That same evening, strategic strikes launched by international drug cartel boss, Poppy Adams (Julianne Moore), take out the entire Kingsman operation as Eggsy and Merlin become the agency's sole survivors.
Merlin and Eggsy, now the new "Galahad," open the group's "Doomsday" plan that sends them to Kentucky and the Statesman whiskey distillery, home to a comparable American agency run by Champagne "Champ" (Jeff Bridges), supported by tech-wizard Ginger Ale (Halle Berry), lariat-twirler Whiskey (Pedro Pascal) and strongman Tequila (Channing Tatum). The Statesman headquarters also houses an amnesiac one-eyed Harry who thinks that he is a noted lepidopterist.
Poppy's drug organization, the Golden Circle (her crew all bears this distinctive tattoo), is run from Poppy Land, a 1950s retro-style compound complete with diner, movie theater, and bowling alley, hidden deep in a Cambodian jungle. The diner houses a large meat-grinderthat will recall Fargo's iconic wood chipper scene and two vicious robotic attack dogs, Benny and Jet, and ironically, one of Poppy's hostages is Elton John. Poppy has released a massive supply of toxic drugs that will cause their millions of users worldwide to develop a blue rash and eventually succumb to central nervous system failure. She also has manufactured an antidote that will be distributed by thousands of drones if the United States President (Bruce Greenwood) agrees to legalize her drugs and grant her amnesty. As a confirmed opponent of drug users, POTUS has absolutely no intention of honoring such an agreement, and is secretly prepared to let the afflicted millions die, much to the dismay of his chief of staff Fox (Emily Watson).
As health systems around the world are overrun with Poppy's victims, a long list that eventually includes Tilde and Fox, the Statesmen join forces with the remaining Kingsmen. A now mostly recovered Harry joins Merlin and Eggsy in a race against time to find Poppy Land and secure the remote control for the antidote-bearing drones, even if numerous land mines and a large cadre of Poppy's Golden Circle guards might well cost them their lives. Like the initial Secret Service film, The Golden Circle uses many of the same James Bond-like devices such as a tricked-out London black cab, briefcases loaded with cool weapons, a multipurpose wristwatch, and a clever defensive umbrella. Of course, this would not be a Kingsman flick without over-the-top fight scenes that approach viewers at the speed of light.
Much of the original production team including writer/director Matthew Vaughn, cinematographer George Richmond, and composing team Henry Jackman and Matthew Margeson return and deliver the cinematic formula that proved so successful for its predecessor. Where this second Kingsman installment falls a bit short of the mark is in its tendency to pack in too many plot twists and, at two and a half hours, seems a bit long by its end credits. That said, this is still plenty of hardcore excitement blended with just enough comic relief, all punctuated by a seemingly endless series of F-bombs. The addition of Julianne Moore, Halle Berry, Bruce Greenwood, Jeff Bridges (wish there was more of him in this one), and the irrepressible Elton John enhance an already a strong cast. Although some of the principals are unlikely to return for a rumored third installment, Kingsman is already a successful franchise and The Golden Circle is a fun way to kick off your fall viewing experience.
Kingsman: The Golden Circle Released in Theaters September 22, 2017.
20th Century Fox | Marv Films | Shangri-La Entertainment | TSG Entertainment
Studios & Distributors
R (Strong violence, drug content, language, sexual material)
Rating Certificate
Matthew Vaughn | Jane Goldman
Writer
22 Sept. 2017
Release Date
Summary
A rollicking sequel to a very successful secret agent comedy-drama that tries a bit too hard to one-up its predecessor
What people say... Login to rate
Be the first to leave a review.
Show more