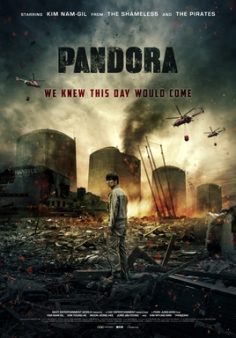 In 2011, a real-life disaster occurred in Japan when the Fukushima Daiichi nuclear power plant was struck by a tsunami, and one of its core reactor cooling systems failed. A subsequent investigation revealed that the operating company had failed to maintain proper safeguards  in the case of such accidents. In yet another instance of art imitating life, such an event provides the inspiration for writer/director Park Jung-woo's  2016 Korean nuclear disaster film.
Pandora opens some years earlier as a group of children (whom we see later as adults) talk about the big "rice cooker" run by a "robot" that is, in fact, their local nuclear power plant. Jae-hyeok (Kim Nam-gil) now works there in a maintenace job that he detests. In true slacker style, he has burned through his late father's estate settlement and lives with his mother (Mrs. Seok, Kim Jung-ae), widowed sister-in-law (Moon Jeong-Hee) and nephew (Min-Jae, Bae Gang-Yoo) in a small neighboring town. His love interest is Yeon-joo (Kim Ju-hyeon) who expects much more of him. On his way to work at the plant, Jae-hyeok encounters the daily group of demonstrators who demand that the nuclear facility be shut down.
A disturbing report about safety conditions at the aging nuclear facility begins circulating through government channels, finally reaching President Kang (Myung-min Kim). A sudden wake-up call comes in the form of a massive earthquake that cracks a coolant valve around one of the reactors. The plant administrators decide that the news about a small leak should be kept under wraps but a full-scale disaster erupts as pipes start to burst and radioactive steam sprays a number of the repair crew. The President is advised against issuing orders for a shutdown and wide-scale evacuation or for venting the radioactive steam until it becomes obvious that no alternatives remain. Once undertaken, the local evacuation process quickly becomes chaotic, as the escape routes cannot accommodate the huge traffic volume.
When the reactor tower explodes,  a  radioactive cloud  soon envelopes the region. Inside, Jae-hyeok tries to save his injured and trapped co-workers. Outside, the Prime Minister (Kyeong-yeong Lee) is trying to set up a recovery plan on the one hand and minimize the political "fallout" on the other. Firefighters discover that the radiation levels inside the plant are too high to permit further rescue efforts. Crises mount,  as the water to cool the reactor has run out leaving as the only option,  the pumping in of seawater but this will cause the plant to be decommissioned and cost staggering amounts of money.
The ninety minutes of nonstop action that follows interposes frequent cutaways from one nightmarish scene to another. Director Park leaves nothing to the imagination as we see dying patients in makeshift field hospitals, struggling rescue and firefighting teams, wholesale panic in the streets, all set against the backdrop of newscasts revealing the enormity of the situation  to fewer and fewer viewers. The entire fabric of the Korean population is quickly unraveling: roads impassable, airports jammed, ports closed, essential supplies exhausted, deadly clouds of gas driven inland, and radiation sickness on the rise. President Kang accepts the inevitable, declares martial law, and agrees to use seawater to cool the core, but it is  too little too late. As the leak in a coolant tank continues to enlarge,  it will take an act of supreme courage from a most unlikely hero to avert a massive nuclear catastrophe.
This is the first Korean film that was pre-sold to Netflix and, judging by both its scope and style, Pandora augurs well for future joint projects. Writer/director Park borrows heavily from the devices of previous massive disaster epics like San Andres, 2012, and The Day After Tomorrow, but in many respects improves on this usual film fare through his creation of more sympathetic and complex characters and the impactful cinematography of Choi Young-hwan. Pandora succeeds on many levels, not the least of which is a script presenting a cautionary tale for our times that nuclear power really does open a modern-day Pandora's box and society must be both vigilant and prepared to handle its consequences. Highly recommended.
Pandora is available for streaming now on Netflix.
Next World Entertainment | Netflix
Studios & Distributors
Australia:MA15+ (2017) (Netflix self-rating) | India:UA | Singapore:NC16 | South Korea:12 | UK:15
Rating Certificate
7 Dec. 2016 (South Korea)
Release Date
Summary
A thrilling well-done Korean disaster film, the first one pre-purchased by Netflix, that will keep audiences transfixed until the end.
What people say... Login to rate
Be the first to leave a review.
Show more