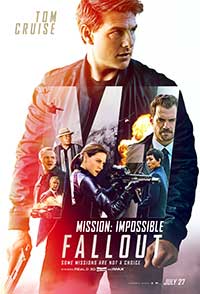 The 20+ year saga in the Mission: Impossible franchise continues full speed ahead in the latest installment: Mission: Impossible — Fallout. Tom Cruise and company are back for more globe-trotting adventures that will take them all over the world in the latest film.
Ethan Hunt (Cruise) is on a mission to intercept some plutonium cores. This complicates things because the terrorist group known as The Apostles also want those cores and will do anything to get them. Along for the ride is Benji (Simon Pegg) and Luther (Ving Rhames). Ilsa Faust (Rebecca Ferguson) makes an appearance, as does Alec Baldwin. The new character added to the bunch is that of August Walker he and his groovy mustache are played by Superman himself: Henry Cavill. I can see why Paramount wanted to keep the facial hair. It completes the character.
As previously mentioned, this new mission that has been undertaken by the IMF team is of grave importance because a shadowy group of terrorists want the plutonium cores on order to arm three nuclear weapons over populated areas across Europe. The IMF crew have to empty out their bag of tricks to put a stop to The Apostles and their scheming before it's too late.
On the surface, that's a pretty abstract summary without getting into spoiler territory. The real draw of this film, considering the last two films of the franchise, Ghost Protocol and Rogue Nation were absolutely stellar. In fact, Mission: Impossible — Fallout is a direct sequel of sorts to Rogue Nation as opposed to the rest of the franchise, but I will say that they found ways of incorporating bits and pieces of the franchise passed into this latest adventure. These new moments are a bit on the blink and miss side but they are there.
The real star of Mission: Impossible — Fallout besides Mr. Cavill's mustache is Mr. Tom Cruise. The man is in his mid-50's and looks and moves like a young man half his age. I saw things that would have killed (and almost did on various occasions) men of lesser skill. The stunt-work on display in Fallout is truly breathtaking. Cruise performs high altitude jumps at 25,000 feet, flies helicopters, which he spent 2,000 hours learning how to do, amongst the rest of the running and jumping stunts. In fact, he even injured his leg on one of the jump stunts that went wrong. There's a reason the film was halted for a couple of months – that much time was needed for recovery. You really can't say that the man was not dedicated.
I really think that this incarnation of the IMF team works rather well as opposed to the initial team from the earlier film prior to Rogue Nation.  With each passing film the stakes seem to get higher and higher, as well. The story itself remains incidental as it seems to revolve to exotic locations and whatever grand stunt can be dreamed of next. It's like the James Bond franchise dropped acid. I have no problem with this whatsoever, because the film is beyond entertaining. In fact, there are times of comedic relief where Hunt is faced with unspeakable odds and his reaction to these circumstances is hilarious. Hunt is no superhero by traditional standards and seems to know what his limits are. That grounds him and we root for him even more.
Mission: Impossible – Fallout is a thrilling ride from start to finish. Everyone is having a ball. Europe gets turned on its head and Tom Cruise has another winner in his hands with the film. It truly is one of the best action films of the year. Please see it at the biggest screen you can get to. As an added bonus if you see it at an IMAX screen, you will have scenes that switch over to full 1.90:1 ratio. That's my next mission – to track one of those screens down. Mission: Impossible – Fallout is highly recommended!
Mission: Impossible — Fallout is in theaters July 27, 2018
Bad Robot | Paramount Pictures | Skydance Media | TC Productions
Studios & Distributors
PG-13 (for violence and intense sequences of action, and for brief strong language)
Rating Certificate
2.39:1 | 1.90: 1 (IMAX version: some scenes)
Aspect Ratio
Christopher McQuarrie
Director
Christopher McQuarrie | Bruce Geller (television series)
Writer
Summary
Ethan Hunt (Tom Cruise) and other familiar members of the IMF team must race against time when their mission goes sideways in this spectacular follow-up to Rogue Nation. Mission:Impossible - Fallout will have fans talking about it for the next couple of years until the next one. Make no mistake, Mission:Impossible - Fallout has to be seen to be believed!
What people say... Login to rate
Be the first to leave a review.
Show more