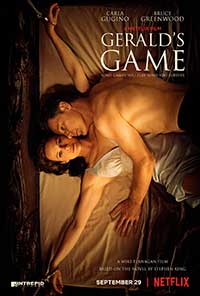 In what seems to be the year of Stephen King in terms of film and television adaptations– Netflix has brought us yet another one called Gerald's Game based on the novel by Stephen King. The film stars Carla Gugino (Watchmen, San Andreas) and Bruce Greenwood (Kingsman: The Golden Circle, Star Trek & Star Trek: Into Darkness). The film is co-written and directed by Mike Flanagan (Oculus, Ouija: Origin of Evil).
Jessie (Gugino) and Tom Burlingame (Greenwood) are your average working couple who are off for some much-needed down time at a secluded cabin in the woods. Jessie and Tom want to spice up their marriage a bit, so Tom promises Jessie that there will be fireworks in store or them both this long weekend. Unbeknownst to Jessie Tom has brought some handcuffs for a bit of kinky fantasy-play and Jessie is a bit apprehensive and somewhat freaked out. Non-spoiler coming your way (not really a spoiler, because it's featured in the trailer and is the main point of the film) — while Jessie is handcuffed to the bed frame Tom has a heart attack and dies. This leaves Jessie all alone, handcuffed, and unable to get help. Gerald's Game is a tale of survival — physical and metaphorical.
Please keep in mind that this is all within the first 5-10 minutes of the film — it is pure rock n' roll soon afterwards. As Jessie starts to plan out her potential escape plan — Tom, or Tom's ghost, (or a figment of Jessie's imagination) begins to taunt her. This is countered by Jessie's own self-image, as a character, instilling self-confidence to survive the predicament she finds herself in. This alone is one of the major highlights of the film. Jessie is talking to two separate people that are possible split personalities of herself and they respond back.
There are many Stephen King Easter eggs throughout the film — I know of four (I initially only spotted two, but was told what the other two were). Gerald's Game is a taut thriller, with some horror and dramatic overtones. It never feels quirky. Director Mike Flanagan has done an outstanding job on what I assume is a low enough budget — the film has great visuals and production design and two central powerhouse performances by Gugino and Greenwood. Carla Gugino has always been a revelation in terms of her beauty, but Mr. Greenwood looks like he was sculpted out of marble — he's shredded and never mind he's 61. No, I wasn't ogling, you really can't avoid it due to his character being in a pair of boxer briefs the entire time.
I should warn folks that there is one scene in Gerald's Game involving horror that will be unsettling for most. Yes, it is pivotal to the story, but it is disturbing. The film is definitely for mature audiences, so be warned. I have not read the novel the film is based on, so I cannot comment. The general feedback that I am getting from those that have, is that it is a great interpretation of the book. There has also been some critical feedback about the last 20-minutes of the film and how that part of the film felt strange and out-of-place. I won't speak of it, but I enjoyed that. In fact, I think Gerald's Game is one of the best Stephen King adaptations ever — Top-10 for sure. The film is confidently directed and acted by a very talented team of professionals.
Gerald's Game is currently streaming on Netflix in the USA in 4K Ultra HD.
Netflix Original Film Gerald's Game (TheaterByte Movie Review)
Intrepid Pictures | Netflix
Studios & Distributors
TV-MA (Graphic violence, sexual situations)
Rating Certificate
Mike Flanagan | Jeff Howard
Writer
29 Sept. 2017
Release Date
Summary
Carla Gugino plays a wife trapped handcuffed to her bed fighting for her life after her husband, played by a fit, shirtless 61-year-old Bruce Greenwood, dies while the couple are trying to spice up their love life in the country in this fantastic, highly recommended adaptation of Stephen King's Gerald's Game.
What people say... Login to rate
Be the first to leave a review.
Show more