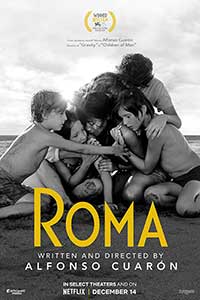 One of the most anticipated films of 2018, Alfonso Cuarón's Roma has finally premiered on Netflix for the masses to see. It had originally opened in a two-week limited theatrical run. If you were lucky enough to find it in your area you would have been treated to a 70 mm Dolby Atmos presentation. Now you may have to settle for an HD presentation at home. (Editor's Note: The film is also streaming in Ultra HD 4K and Dolby Vision/HDR10 w/ Atmos on Netflix if your equipment allows.)
Roma follows the story of Cleo (Yalitza Aparicio), the nanny and maid to an upper-class family in Mexico City in 1971. The film follows Cleo as she does the menial chores and cares after the family's children. The man and woman of the house are busy with careers and the have several children that have to be taken care and that includes the kids' grandmother – she can only do so much. Cleo lives in a back-guest house with another maid, Adela (Nancy Garcia Garcia). Both women are Mixtec and speak the Mixtecan language and Spanish interchangeably with each other.
Both of their lives are mundane and not very fulfilling – they are what they are and in this particular case they are servants. When the women go off on dates with their boyfriends, Cleo informs her boyfriend that she may be pregnant with his child. He proceeds to ditch her at the movies. This leads Cleo on a bit of a quiet soul-searching quest on how to get a grip of things. Will her employers fire her? Who will help her raise the baby? There are a lot of variables in Cleo's life that come crashing down on her as she tries to navigate through her very complicated life.
I'm obviously simplifying the plot because I don't want to get into spoiler territory. Roma, on the surface, seems typical and not very interesting. This all changes as the film progresses. Cleo is our protagonist and we see and feel everything she goes through. It's definitely more than a regular person can bear. As with life, and the often brutality of it, she endures with quiet intensity as she navigates the road with her problems and the problems going on around her. The family that she works for are not saints and neither is the world that she lives in. As things escalate around her she moves headstrong through these events rarely ever emoting, just carrying on and living on.
I did not know what to expect going into Roma but afterwards I was left blubbering like an idiot. OK, not quite, but there are many themes and scenes that run into each other from Cuaron's past films. Some of these are easy to spot like the ones from Gravity, Children of Men, and Y Tu Mama Tambien. I even though that the title of the film was a tribute to Fellini, and I can see a few scenes here and there that seem like they can be from a Fellini movie but the name is from a neighborhood in Mexico in which Cuarón himself grew up.
As far as the technical merits go – Cuarón acts as his own cinematographer on Roma. I was floored at some of the shots here. There were a few shots that reminded me of early John Carpenter, especially Assault on Precinct 13 and a few scenes from any Quentin Tarantino film that many people would like. There are many scenes that pan from left to right and right to left, others just have the camera stay stationary. It's a very minimalist way of shooting but there are tons of information onscreen for viewers to digest. I would not be surprised if Cuarón gets a nomination for cinematography come Oscar time.
Roma is definitely a masterpiece in the making. It's the world of a strong and resilient woman that was dealt a certain in life and has to embrace that which she was given. The simple analogy of it all is that she is a worm that will spin into a cocoon and hopefully turn into a butterfly by the end of the film We take the journey with Cleo into the shaping of the cocoon and stasis and hopefully come out intact in the end. Roma is one of the best films of 2018 without a doubt. What's even more remarkable is that this is Yalitza Aparicio's debut film – I would not be surprised if she also gets a nomination for Best Actress.
Roma is currently streaming on Netflix and still playing in limited releases at select theaters. I don't care where you see it at just see it.
---
Esperanto Filmoj | Participant Media | Netflix
Studios & Distributors
R (for graphic nudity, some disturbing images, and language)
Rating Certificate
Spanish | Mixtec | English
Language
21 Nov. 21 2018 (limited) | 14 Dec. 2018 (Netflix)
Release Date
Summary
This quietly powerful film chronicles a year in the life of a maid in turbulent 1970s Mexico and the family she works for. Roma is a modern day masterpiece and will no-doubt be regarded as one of the best films of all time in the coming years, and certainly one of the best of 2018. Alfonso Cuarón has cemented himself as one of the greatest filmmakers of our times.
What people say... Login to rate
Be the first to leave a review.
Show more