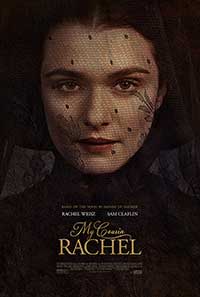 Daphne du Maurier's novel has now spawned two feature-length films and this 2017 version is the much-anticipated remake, that appears on the screens a mere 65 years later. As My Cousin Rachel opens, young orphan Philip Ashley has been adopted by his older cousin Ambrose (Sam Claflin), and advised by his godfather Nicholas "Nick" Kendall (Iain Glen). The years pass and Ambrose's physician recommends a move from the chilly Cornish seaside to the warmer climate of Italy to help improve his failing health. Philip (also played by Claflin) has grown up and Ambrose writes to him of his meeting another "cousin," Rachel Sangalletti (Rachel Weisz), whom he has recently married. Gradually, the tone of Philip's letters changes and, after he complains of constant headaches, Rachel's Italian friend Guido Rainaldi (Pierfrancesco Favino) recommends that Ambrose seek different medical treatments. Concerned for his cousin's wellbeing, Philip hurriedly travels to visit Ambrose at the Villa Sangalletti, only to discover that his cousin has died and Rachel has departed.
Nick shows Philip a death certificate stating that Ambrose succumbed to a brain tumor.  An unsigned will that would have turned Ambrose's ample assets over to Rachel now makes the young man sole heir to the Ashley estate when he turns 25. Philip still suspects that Rachel was responsible for Ambrose's death but when she arrives at the manor house, he sees instead a very beautiful grieving widow. Gradually, Philip becomes infatuated with his older "cousin" who has taken up "temporary" residence in the Ashley home but there are hints that all is not well. A workman gives Philip a letter found in one of Ambrose's old coats suggesting that his cousin may have been slowly poisoned. Nick also raises questions about Rachel's extravagant spending habits in Italy and now in Cornwall but Philip dismisses these concerns.
Rachel continues to beguile Philip and brews a special daily tissana (herbal tea) for him that she claims will promote his health. The young man impetuously gives Rachel his mother's pearl necklace (that technically is not yet his to give) and shortly afterwards beds down with her. Philip has the family lawyer Couch (Simon Russell Beale) draw up a legal document leaving the entire estate to her once he attains his majority on the condition that if she remarries it will revert back to the Ashley family.
At a dinner celebrating Philip's 25th birthday attended by Nick and his daughter Louise (Holliday Grainger) and Rachel, the young man blurts out a marriage proposal to Rachel that she summarily rejects. A distraught Philip becomes quite ill and, during his protracted recovery, his suspicions of Rachel begin to resurface. As Ashley attempts to gather evidence of Rachel's  murderous intentions, the pace picks up and reaches a conclusion that is surprising and leaves some important questions unanswered.
This mystery-romance film is a slow burner in which writer/director Roger Michell builds the suspense gradually but inexorably. Rachel Weisz delivers a stunning portrayal of a mysterious woman who might also be a murderer. She is ably partnered by Sam Claflin as the naïve and impulsive younger man who is very unaccustomed to the ways of wily women. The supporting cast is first-rate from top to bottom with particular praise for Iain Glen and Holliday Grainger. Mike Eley's cameras produce ravishing views of the expansive Cornish countryside and the atmospheric interiors of the old estate buildings while Dinah Collins's mid-19th century costumes are period perfect. The earlier film version of My Cousin Rachel with Olivia de Havilland and Richard Burton was well received in its day but time marches on and, with its better script and cinematography, this newer and even darker movie now becomes my preferred film adaptation of a cinematic classic.
Fox Searchlight Pictures | Free Range Films
Studios & Distributors
PG-13 (some sexuality and brief strong language)
Rating Certificate
Summary
This My Cousin Rachel is a brilliant remake of Daphne DuMaurier's mystery-romance with strong leads supported by great direction and cinematography.
What people say... Login to rate
Be the first to leave a review.
Show more