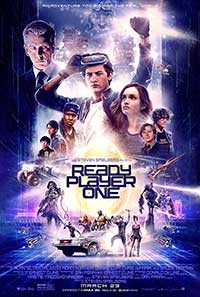 In Ready Player One it is 2045 where the world is a harsh mistress. People escape the burden of reality into a virtual reality world called the OASIS. In the OASIS, you can do and be whatever you want. The only limits are that of your imagination. Wade (Tye Sheridan) lives in Ohio, in a slum community known as "The Stacks." Thousands, of what seem to be, mobile storage units are stacked on top of one another – basically mobile storage unit skyscrapers. Wade lives with his aunt and her husband and spends just about every waking second he can in the OASIS.
It is announced that the creator of the OASIS, Halliday (Mark Rylance), has bequeathed the sole ownership of the OASIS and his monetary fortune to anyone that can crack a three-part mission by locating some keys to some "Easter eggs" embedded within the OASIS. Other gamers soon jump aboard the contest, which include Art3mis (Olivia Cooke), and real-world-corporate-super-villain: Sorrento (Ben Mendelsohn). Everyone wants a shot at the title because the OASIS is the ultimate commodity in the world. It's also a corporate cash cow, which is Sorrento's motivation.
That is the basis of the story in Ready Player One. Once we're immersed into the virtual world it's really a no-holds barred affair in terms of how many familiar video game and pop culture tropes can be thrown at the viewer. The film is based on the popular YA novel by the same name written by Ernest Cline, who also co-wrote the script with Zakk Penn. On top of that you have the master, Steven Spielberg, at the helm. On that alone, you know you're going to get something quite ambitious.
The good to great stuff in Ready Player One are the special effects, design, and inner workings of the OASIS itself. It's vast and there is so much to take in that You could watch it ten different times and still miss out on everything that has been crammed into the film. Every cameo, monster, object, weapon, reference, etc., is mostly in there. Most of it is 1980s nostalgia, with a few instances of prior reference from decades past. Even the soundtrack features some classic 1980's pop and cheese. These elements are what propel the film forward and make it succeed on a purely aesthetic level.
The bad news is that the real-world Wade and the rest of humanity inhabit is not expanded on. I understand that it's not that kind of film, and not having read the book, I don't know if the book shows you more of the real world or not, but it's a bit superficial here. Even Sorrento, in the real world, comes off as weak and I asked myself if this was the main villain? I like Mendelsohn, but he may have been miscast. It seems that due to the lack of explanation, the OASIS seemed like a more complete and possibly real threat than anything or anyone outside of it ever was. I didn't recognize Olivia Cooke, and she was in one of my favorite films of 2017 called The Limehouse Golem. She was good as Art3mis, as well. Sheridan, well, he was Cyclops in the last X-Men film (and the next one currently in production), but there was something still off about him in the real world. The humans of the real world were one-dimensional, outside of Halliday and Simon Pegg's character, Ogden Morrow. Avatars in the OASIS, however, were great.
Now if you can avoid an over-analyzing of Ready Player One and just see it as a piece of stylistic pop then you may have a good time. I enjoyed it for all of its style over substance aesthetic. I can also point out that on top of it all it is not a very "deep" film, nor do I think it was meant to be one. I think Steven Spielberg set out to make a pop culture heavy and friendly film and has succeeded at doing just that. Ready Player One is recommended.
Ready Player One is in theaters March 29, 2018
Ready Player One (TheaterByte Movie Review)
Amblin Entertainment | De Line Pictures | Farah Films & Management | Reliance Entertainment | Village Roadshow Pictures | Warner Bros.
Studios & Distributors
PG-13 (for sequences of sci-fi action violence, bloody images, some suggestive material, partial nudity and language)
Rating Certificate
Zakk Penn | Ernest Cline | Based on the novel by Ernest Cline
Writer
Summary
In a dystopian future where people escape into an advanced virtual reality world called OASIS to escape the misery of their lives, the inventor of the VR world dies leaving behind a challenge to everyone to find a special Easter Egg left behind in his program that will allow the person who finds it to inherit his fortune. Ready Player One is definitely a pop-culture pummeling experience. It's entertaining and I suppose that that is its only redeeming quality -- not that it has actual depth, because that is arguable. As it stands, Ready Player One is a sumptuous visual feast that needs to be seen on the largest screen you can find.
What people say... Login to rate
Be the first to leave a review.
Show more